The Nigerian Erosion Watershed Management Project (NEWMAP) on Thursday, July 19, 2018 appealed to Obosi community in Anambra State to bear with it over the slow pace of work at its gully erosion sites.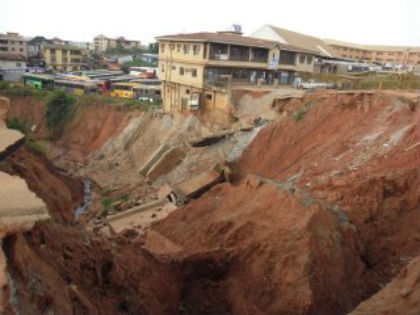 Mr Emeka Achebe, Head of Communications of NEWMAP in the state, made the appeal while speaking with the News Agency of Nigeria (NAN) in Obosi, Idemili North Local Government Area (LGA).
Achebe was reacting to reports by the community that the project might have been abandoned.
He said that a large portion of the job would have been completed but for rainfall that had slowed it down.
He said that the contractor, Chez Aviv Ltd, had not abandoned the project, adding that work on the project was ongoing.
Achebe said the rains had prevented the contractor from executing the concrete works.
According to him, the concrete work in the World Bank assisted project, cannot be done under the prevailing weather but the preliminary jobs were currently ongoing.
"For instance, the baseline topography survey is ongoing at Ire Village, while a drainage job is going on at Ugamuma as well as the reinforcement of a compromised building at Nkpor.
Achebe said the survey would reveal additional erosion sites to those captured in the original plan, assuring that the work would be comprehensively executed.
The people of Obosi community had called on the contractors to hasten the completion of the project to save the residents from the menace of gully erosion.
Mr Ike Madubuosah, President-General of Obosi Town Union, said the community was thankful to the Anambra State Government and World Bank for the project but wondered about the delay in the execution of the job.
Madubuosah said the delay in effective takeoff of erosion control civil work on the sites was a major cause for worry as more land and households were being exposed to danger.
The president-general described Obosi as an ecological disaster area that demanded urgent and sustainable control and remediation work.
"The ecological situation in Obosi is worrisome now; we have challenges with seven major gully erosion sites, including two in Ugamuma, two in Ire, one in Umuota and two in Uruowulu," he said.
The contractors have two years to complete the job.
By Chimezie Anaso