Some environmentalists have called for concrete actions against the spate of micro-plastics pollution in the nation's water bodies.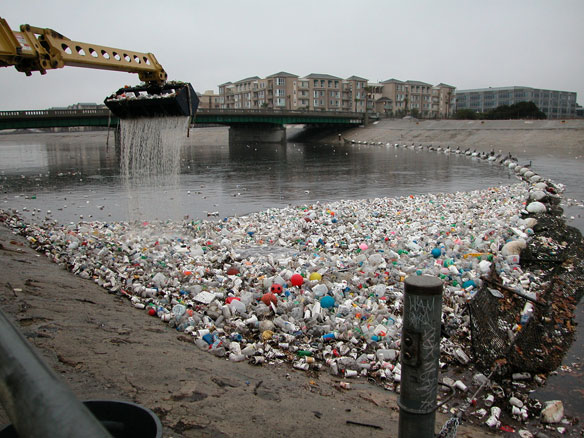 The environmentalists made the call in various interviews with the News Agency of Nigeria (NAN) in Lagos on Thursday, May 3, 2018.
Micro-plastics are broken-down plastic waste, synthetic fibres and beads found in personal hygiene products.
They also include larger plastics that have broken apart, resin pellets used for plastic manufacturing, and manufactured plastic beads used in health and beauty products.
They harm marine life, which mistake them for food and can be consumed by humans via seafood, tap water and salt.
The Co-founder of Cleanedge Initiatives, Mr Temitope Ogunweide, said that micro-plastics could be prevented from entering human bodies through effective waste management practice.
"Micro-plastic pollution is one of the most widespread and long lasting anthropogenic changes in the surface of the planet.
"The best way to reduce micro-plastics in our waters is by having an effective waste management system, which is why it is urgent to support the ocean clean-up exercises.
"Not cleaning up the ocean will result in the spread of more micro-plastics which is deposited in our food chain, table water and salt among others.
"It takes about 14 days for micro-plastics to digest in aquatic animals when compared to the normal digestion which just takes two days.
"Fish is the primary source of protein for humans. The micro-plastics ingested by the fish can be passed on to humans when consumed," Ogunweide said.
On his part, Mr Olumide Coker, the Country Manager of Let's Do It Nigeria, said Nigeria needed to adopt the use of eco-friendly materials to curb micro-plastic pollution.
"Some countries have identified the inherent dangers of micro-plastics both in the aquatic and human environment.
"These countries have resolved to use eco-friendly materials. They have a timeline to create awareness on the dangers of micro-plastics pollution and need to ban plastics.
"We are still far behind in this aspect in Nigeria. I think we should adopt their strategies to eliminate micro-plastics pollution in our country," Coker added.
By Mercy Okhiade