As part of efforts to increase public awareness on the relationship between the environment and socio-economic livelihood, Pistis Finserve recently recognised EnviroNews Nigeria alongside others for their works in promoting environmental sustainability in the country.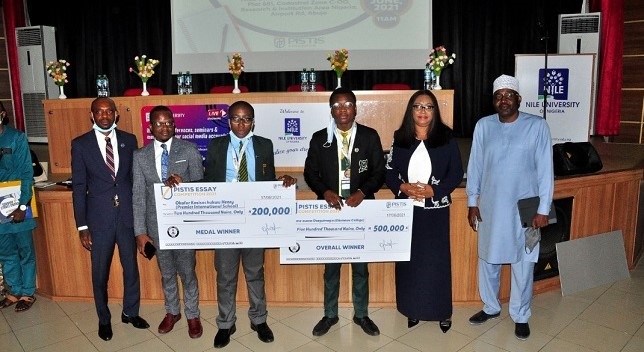 Other awardees include the Minister of State for Environment, Mrs. Sharon Ikeazor, and organisations like Chanja Datti and Steward of the Environment for Sustainability Change Initiative, who were awarded for their leadership roles in championing sustainable environmental practices.
Student awardees include Noma-Owens Osaguimagie (Olumawu College, Abuja), Okafor Kosisochukwu Henry (Premier International School, Abuja) and Habu Balmi (Lightway Academy, Abuja).
The Pistis Sustainability Awards honoured Editor-in-Chief of EnviroNews, Michael Simire, "for Exemplary Leadership in Sustainability and for creating measurable impacts towards building a more fair and sustainable world".
The ceremony, which took place on Thursday, June 17, 2021 in Abuja, was organised as part of activities to commemorate this year's United Nations World Innovation and Creativity Day, as well as the grand finale of the Pistis Essay Competition to reward schools that demonstrated creative ideas on alternative methods of sustainable living.
With focus on innovation to promote sustainable living, the theme of the 2021 contest was conceptualised with the view of mobilising and empowering young people with the skills and resources required in ensuring environmental safeguard.
Founder and managing partner of Pistis Finserve, Adedipe Oluwafemi, informed the audience that the participants were required to write an essay of about 1,300 words suggesting innovative ways to create sustainable systems in Nigeria, including ways the country can achieve the global Sustainable Development Goals (SDGs).
The ex-banker hinted that the entries were screened by sustainability and innovation experts including officials from the Ministries of Environment, as well as Science & Technology to ensure they are original work of candidates, and plagiarism free.
While top students are expected to be inducted into The Pistis Alpha Scholars Club for mentorship and long-term educational and career support, the first runner received the sum of N500,000, second runner N300,000, and third runner got N200,000 cash prizes to foster innovation among young people and encourage sustainable lifestyle.
"We want young minds in Nigeria to think deeply, imagine and write about innovative solutions to any of the 17 Sustainable Development Goals (SDGs) as they relate to Nigeria," he said.
Minister of State for Environment, Mrs. Sharon Ikeazor, commended the organisers for their strategy of engaging school children to catch them young.
Ikeazor, who was represented by Priscilla Achapka, environmental and women's rights campaigner, reiterated the benefits of sustainable living and the need to teach young people the importance of environmental protection.
"I am ready to support young people to any length that they will make the natural environment a living place for all," she assured. Pistis Finserve Ltd is an organisation that manages investment and issue working capital loans to active small businesses. The firm has issued over N900 million to more than 11,000 business enterprises across 30 locations since its establishment in Nigeria.
By Etta Michael Bisong