Nigeria has listed several avenues in which its revised climate change blueprint is different from the original one submitted some six years ago.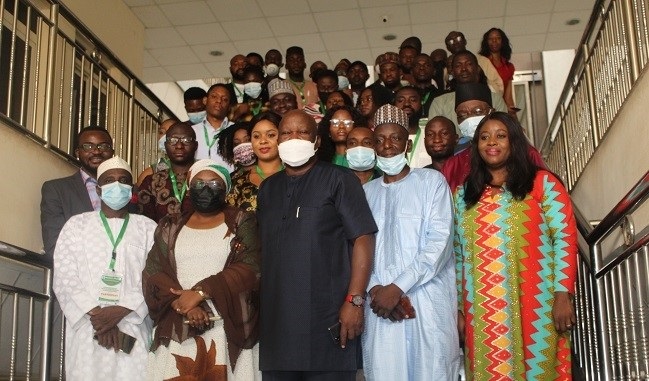 In the Nationally Determined Contribution (NDC) submitted to the United Nations Framework Convention on Climate Change (UNFCCC) in 2015, Nigeria committed, among others, to reducing carbon dioxide 45% conditionally and 20% unconditionally, end gas flaring by 2030, improve the electricity grid to achieve 30% energy efficiency by 2030, as well as adopt reforestation and climate smart agriculture measures.
Because the nation's timeline is 2030, it is committed to submitting a revised NDC five years later and efforts have been undertaken to make this a reality.
Coordinator, United Nations Development Programme (UNDP)-NDC Support Programme, Huzi Mshelia, while giving an update on the revision process in Abuja on Thursday, June 17, 2021 during a Stakeholders' Workshop for Civil Society Organisations (CSOs) on the NDC Revision Process disclosed that the revised NDC would be better than the 2015 version because there was a wider range of stakeholders' consultations to ensure awareness, ownership and capacity to better develop and implement the NDC.
Additionally, he said, the updated NDC has integrated nature-based solutions, adaptation and resilience, vulnerability assessment, potential of clean cooking, gender and green jobs assessment, and bottom-up renewable energy transition pathway for 2030.
"Under the revised NDC, targets are based on strong underlying data and are detailed, achievable, and verifiable," Mshelia, who is also the Country Facilitator – NDC Partnership, said, adding that the waste and water sectors have now been included to ensure better analysis, quantification, and costing.
He submitted that, this time around, targets are developed under an inclusive and transparent process, and that the targets are strategically aligned with national policy, especially the Economic Sustainability Plan.
In terms of achievements so far made, Mshelia, a legal practitioner, stated that apart from the submission of the Interim NDC to the UNFCCC on May 27, 2021, all technical assessments, reviews and analysis have been completed.
He noted that, after a national validation and Federal Executive Council (FEC) approval of the draft NDC, the document would be submitted to the UN climate change body before July 31, 2021.
Besides reviewing the draft and providing inputs at the national validation, Mshelia told the CSOs that they are also expected to actively participate in the implementation of the NDC and monitor its performance.
In a presentation on the "Assessment of impact of climate change on water", Prof Olukayode Oladipo of the University of Lagos said that water was not one of the sectors in the first NDC document.
He described water as being central to any development and a connector among global commitments like the Sustainable Development Goals (SDGs), Paris Agreement (climate change) and Sendai Framework (disaster risk reduction).
"Nigeria has water resources estimated at 215 billion m3 of surface and 87 billion m3 ground water. Nigeria is blessed with water," he said, adding that numerous water and water related policies are in existence.
He called for nature-based solutions to address inherent challenges, saying: "Wetlands have been tampered with so there is need to preserve or restore them, there is need for reforestation of coastal mangrove forests and restoration of water sources.
"Integrated water resources management (IWRM) approach should be adopted for sustainable development of the country's river basins, including the transboundary sources. There is need to protect and restore degraded watersheds and wetlands to protect water resources and related ecosystems services."
Addressing the CSOs, he said: "Your role is to form yourselves into a block and exert pressure on government. NGOs are not doing enough. You need to put yourselves together. I want you to form platforms in line with the geopolitical zones – six platforms. Your role is advocacy."
Speaking on the 2050 Long-Term Vision for Nigeria (LTV-2050), Dr Eugene Itua of Natural Eco Capital said that in addition to the NDC effort, Nigeria decided to formulate and communicate its Long-term Low Emissions Development Strategies (LT-LEDS), also known as Long-Term Strategies (LTS).
"The LTS looks at deeper efforts to lower greenhouse gas (GHG emissions), contributing to the objective of reaching net zero GHG emissions globally around the middle of this century, 2050," he said, adding that the scope of the project entails providing a clear sense of direction to all stakeholders for a well-managed transition to a low-carbon economy that grows existing and new sectors, creates new jobs and economic opportunities for the nation.
While saying that the CSOs' observations, contributions, suggestions and opinions count, Itua suggested an allignment of the LTS with the NDC.
He said: "LTS provides opportunity to consider evolving adaptation needs and mitigation opportunities and strengthen strategic capacities over time. LTS focuses on significant reduction of GHG emissions or a complete decarbonization of the entire economy and NDC benefit from the guiding principles."
On Mainstreaming Gender into the NDC, Dr Ahmed Sabo noted that to properly integrate gender into the NDC, there must be proper coordination across all the relevant sectors.
"Thus, systematic arrangements are vital across environment and gender ministries and other priority sectors. The involvement of the Ministry of Women Affair as the gender coordinating ministry is essential," he said, even as he underlined the need to involve women in developing new technologies related to climate change adaptation or mitigation. considering their specific and priority needs and making full use of their knowledge, expertise, and traditional practices.
Presentations were also made by Hans Verolme of Ricardo,Prof. Francis Adesina of the Obafemi Awolowo University (OAU), Ewah Eleri of ICEED, Olugbolahan Mark-George of PFAN, Emmanuel Sogein Daminabo, and Duncan Millard of IRENA.