The Elephant Protection Initiative (EPI) friend of the month, Captain Cedric Mondon of Côte d'Ivoire, is Head of Wildlife Protection Services in the Ministry of Water and Forests, and works closely with the EPI Foundation on the security of Côte d'Ivoire's ivory stockpiles. He laments the spate of decline of the elephant in the country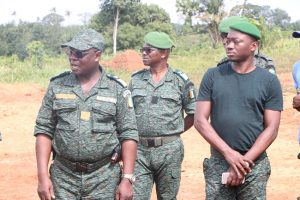 Could you tell us when you got interested in conservation and why?
I have always been passionate and curious about nature, wanting to learn more about forests, its resources and its uses. I was motivated by the increasing threats to our environment. During my studies I joined a group of young activists campaigning for environmental protection around Yamoussoukro. Today I proudly wear my hat as a defender of wild animals, and am delighted to make my contribution.
What is the situation of elephants in Cote d'Ivoire today?
The elephant is the symbol of Cote d'Ivoire, but its situation is increasingly alarming. We went from a population of 3,000 individuals just after independence in 1960 to 1,100 individuals in the 1990s, to less than 300 individuals today. The number of elephants has suffered a great decline.
In your opinion, what are the biggest threats that are facing elephants in Côte d'Ivoire and what solutions exist to address these threats?
The main cause of elephant extinction is linked to their unique forest habitat, which is disappearing at a rapid pace, creating more Human-Elephant Conflict. This is compounded by poaching and the illegal wildlife trade.
We need to –
1) Restore the national forest cover, for example by promoting agroforestry;
2) Organise mass awareness campaigns on the importance of preserving elephants among local populations;
3) Preserve the remaining elephant populations by strengthening surveillance through the use of innovative technology.
Do you remain optimistic about the survival of the several small populations of elephants in Côte d'Ivoire?
Despite everything, I remain optimistic. We can still preserve these elephants by stepping up our efforts.
If someone was visiting Côte d'Ivoire, where would you like to take them?
Unquestionably to the Banco National Park, considered the green lung of the city of Abidjan. It is a park located in the very heart of a city, like the Tijuca National Park in Rio de Janeiro.