As part of activities lined up to improve vehicular movement and to mitigate against crashes during the Eid-El-Kabir celebration, the Corps Marshal of the Federal Road Safety Corps (FRSC), Dr. Boboye Oyeyemi, has approved the deployment of 33,000 personnel, both regular and special marshals, to address wrong road usage by motorists which results in high number of Road Traffic Crashes (RTCs) during festivities and ensure a downward trend in the number of RTCs.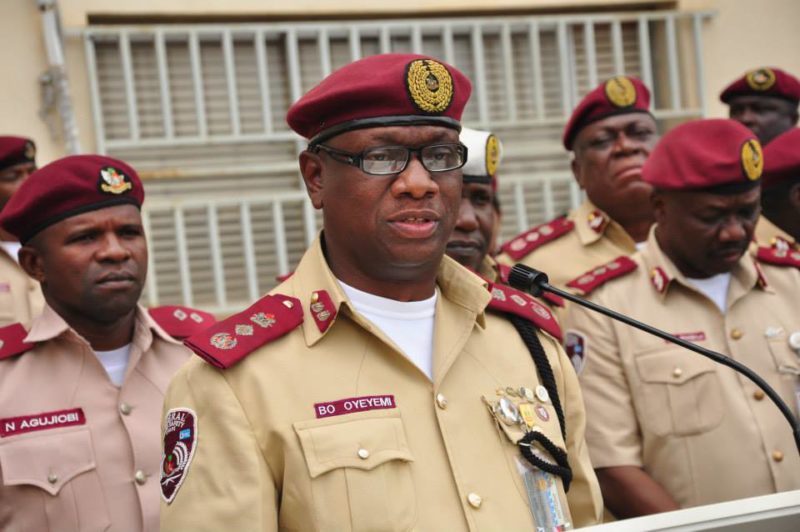 The Corps Public Education Officer, Bisi Kazeem, emphasised that the operation would focus on traffic control, excessive speeding, dangerous driving/overtaking, clearance of road obstructions, seatbelt use violation, zero tolerance for use of phone while driving, lane indiscipline and route violation as, according to him, these have been identified as reoccurring factors of RTCs.
In a press statement made available to EnviroNews on Tuesday, August 29, 2017, Kazeem stated that the 2017 Eid-El-Kabir Sallah Special patrol operation is scheduled to commence from August 31 to September 6, 2017 and that personnel have been briefed appropriately to perform their duties which include public enlightenment, traffic calming, traffic control, enforcement and rescue services. For ease of operation and prompt rescue services, 859 patrol vans, 106 ambulances, 267 motorbikes and 22 towtrucks have been deployed to cover critical routes and crash-prone areas.
According to him, the holiday is for celebration with family members and loved ones especially for the Muslim faithfuls. He advised motorists to bear in mind the need to adhere to stipulated traffic rules and regulations to and fro their travel destinations as over 200 mobile courts will be set up to prosecute erring offenders.
Kazeem further urged the motoring public to practice safe road use culture and give their maximum cooperation to FRSC personnel for the desired success. He also called on the general public to notify FRSC in the event of an emergency through its emergency line 0700-CALL-FRSC (0700-22553772) or toll free number 122 for prompt response as road safety is a shared responsibility.
The Corps Marshal wishes Nigerians happy Eid-El-Kabir celebration and assured them that personnel will be on ground 24 hours, while Road Side Clinics and Ambulance points across the country will be open to emergencies. He also thanked all military and paramilitary agencies for their sustained support as they have equally been placed on standby for effective collaboration.