As world leaders and ministers lined up in their droves to sign the landmark Paris Climate Change Agreement in New York last Friday, a group of senior UN officials slipped out for a few minutes in the sunshine into a very special place for a small but unique event.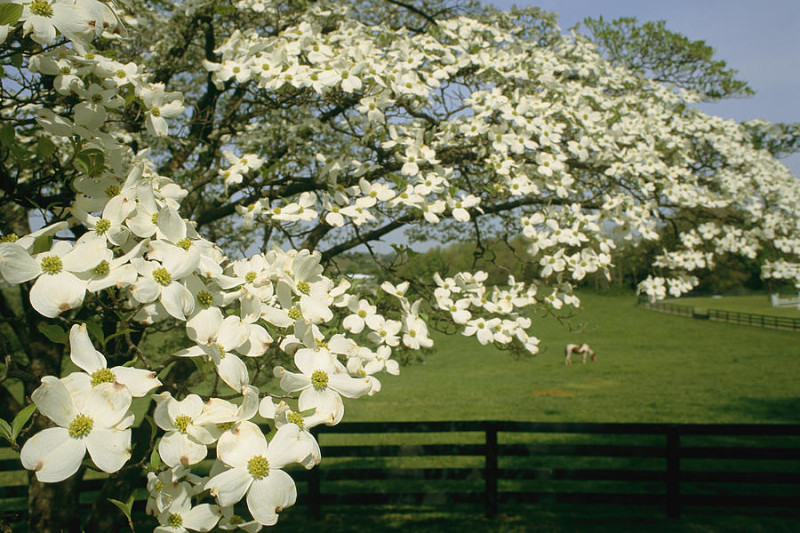 The group, including UN Deputy Secretary-General Jan Eliasson; the President of the General Assembly Mogens Lykketoft and UN Climate Change Secretariat (UNFCCC) Deputy-Executive Secretary Richard Kinley, came to roll up their sleeves to dig in a native American flowering dogwood tree at the new UN Food Garden.
The flowering dogwood (or cornus florida) is a species of flowering plant in the family Cornaceae native to eastern North America and northern Mexico.  The tree is commonly planted as an ornamental in residential and public areas because of its showy flowers and interesting bark structure bracts.
Mr Kinley said: "I was delighted to be there. Planting a tree is a very simple but powerful expression of solidarity with people, the earth… indeed life itself.  It is also a symbol of a fundamental reality – that in order to meet the Paris Agreement's goals, especially achieving climate neutrality in the second half of this century, forests, soils and other ecosystems are our natural allies given their ability to remove and store carbon from the atmosphere alongside the myriad of other services they provide for humanity, including food."
They were joined by a few curious birds, a hive of bees that have recently set up home in international territory and the charming Catherine Zanev, Associate Expert for Climate Change in the UN System Chief Executives Board but more importantly on that day Coordinator of the Garden.
Some weeks ago UNFCCC launched with the Earth Day Network a campaign linking 22 April, the signing of the Paris agreement, with the theme of Earth Day 2016 – Trees4Earth.
When it comes to climate change, there is a lot of focus on renewable energy, energy efficiency and 'hard infrastructure' but without trees and other ecosystems the world will struggle to meet not only the climate goals but those under the Sustainable Development Goals.
So when Catherine saw our campaign via social media, she thought it was a cool idea to organize a planting at the UN HQ on the key day.
"Wouldn't it be nice if Christiana Figueres, the SG and others planted a fruit tree in the UN Food Garden on 22 April? We'd be happy to help make this happen, if you are interested," she wrote on 8 April, and naturally I said yes!
In the end the UN Secretary-General was super busy with signing as was Ms Figueres, but Friday's line up was still impressive and the pretty, white-flowered, tree was given an impressive bedding-in.
According to Wikipedia, the new tree is from the genus Cornus of which there are "about 30–60 species of woody plants in the family Cornaceae, commonly known as dogwoods, which can generally be distinguished by their blossoms, berries, and distinctive bark".
Not sure who writes these entries, but they must have a sense of humour. The idea of a tree called dogwood with "…a distinctive bark" surely can't have gone unnoticed by the Wiki authors!
Later I found time to chat to Catherine about the Garden.
The UN Food Gardens is an initiative of staff volunteers from various UN system entities and Permanent Missions to the UN. It aims to transform unused land at the UN Headquarters into sustainable food gardens.
By integrating small-scale food production into its own landscape, the UN translates global priorities related to increased biodiversity, good land stewardship, sustainable food systems and greener cities into action and leads by example.
The first garden was officially opened by the Secretary-General in July 2015. A wide variety of edible plants from around the world have since been grown in the garden. UNICEF's and the UN Secretariat's caterers have turned some of the garden produce into super-local, healthy food for UN staff.
As the sun was making its descent later in the day, I popped by to ask Catherine my only nagging query – why did we not plant a fruit tree?
It seems Facilities Management, the UN people who keep the HQ running, were a little concerned that a fruit tree might – er well – produce fruit which in turn could make the surrounding walkways sullied and perhaps slippery.
But Catherine explained that the dogwood does produce berries, which can make jam and are a great source of food for birds who have to eat too – clearly a lot to tweet about for all species on Earth on a very special day!
By Nick Nuttall (UNFCCC Spokesperson)