For the first time, scientists have recorded a spring fish migration simply by conducting DNA tests on water samples.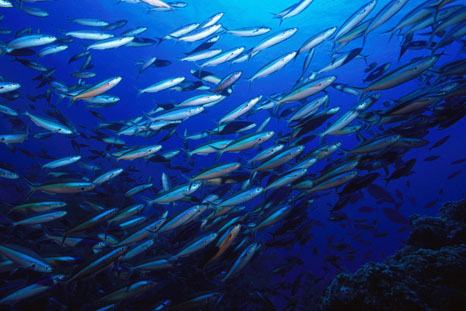 "Environmental DNA" (eDNA), strained from one-litre (quart) samples drawn weekly from New York's East and Hudson Rivers over six months last year, revealed the presence or absence of several key fish species passing through the water on each test day.
The convenient weekly data snapshots created a moving picture that largely reinforced and correlated with knowledge hard won from migration studies conducted over many years with fishnet trawls.
The Rockefeller University study, published on Wednesday, April 12, 2017 in PLOS ONE, pioneers a way to monitor fish migrations that involves a fraction of the effort and cost of trawling, all without harming the fish.
It demonstrates as well another in the growing list of eDNA uses, which experts expect to upend soon the way fish assessments are conducted worldwide.
Indeed, eDNA science is quickly granting humanity a very old wish: an easy way to estimate the abundance and distribution of diverse fish species and other forms of marine life in the dark waters of rivers, lakes, and seas.
Led by Senior Research Associate Mark Stoeckle and co-authored by student researcher Lyubov Soboleva and Rockefeller University scientist Zachary Charlop-Powers, the project originated in the university's Programme for the Human Environment under Director Jesse Ausubel, co-founder of the Census of Marine Life, a decade-long international collaboration that ended in 2010.
As they swim, fish leave traces of their DNA in the water, sloughed off their slimy, gelatinous outer coating or in excretions, for example.
Says Dr. Stoeckle: "Researchers in Europe first demonstrated that relatively small volumes of freshwater and seawater environments have enough invisible bits of DNA floating in them to detect dozens of fish species."
Introducing the time element: an important and innovative twist
"By conducting a series of tests over time, collecting surface water from the same point on both the Hudson and East Rivers once a week for six months, we've successfully demonstrated a novel way to record fish migration."
"Our work also offers clear new insight into the durability of DNA in the water, which persists despite currents and tides with a goldilocks quality just right for research.  If the DNA disappeared too quickly, we couldn't obtain an informative sample; if it persisted for too long, there would be too much DNA in the water to yield useful, timely insights."
In all, Dr. Stoeckle and colleagues obtained the DNA of 42 fish species, including most (81%) of the species known to be locally abundant or common, and relatively few (23%) of the uncommon ones.
"We didn't find anything shocking about the fish migration – the seasonal movements and the species we found are known already," says Dr. Stoeckle. "That's actually good news, adding to evidence that eDNA is a good proxy. It amazes me that we can get the same information from a small cup of water and a large net full of fish."
Some species, he adds, couldn't yet be distinguished, notably some in the herring family, which have identical sequences in the region of DNA used for testing.  As well, some of the DNA obtained couldn't be identified because the DNA reference library, while steadily growing, is incomplete.
"We knew that we had DNA from a fish, but couldn't pinpoint the species," says Dr. Stoeckle.