Concerned stakeholders in the South-West in Nigeria have traced perennial incidences of flooding and other environmental issues to the flagrant sabotage of governments' policies, among other human factors.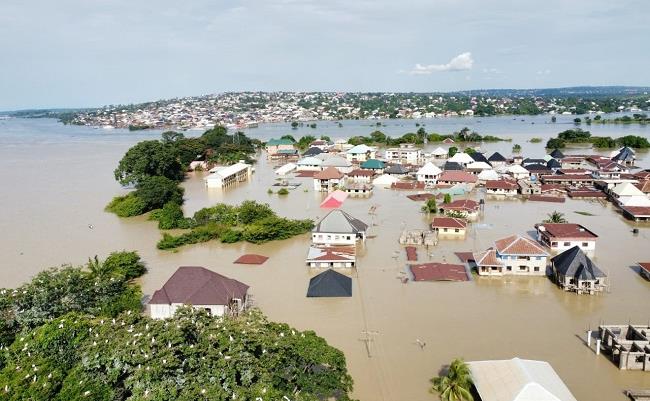 They spoke in separate interviews on Tuesday, October 25, 2022, in Ado-Ekiti, Osogbo, Ibadan, Ilorin, Abeokuta and Akure.
With some experts saying that proactive measures would have prevented some of these consequences, others urged the three tiers of government to make more substantial investments in drainage and flood defence engineering infrastructure.
They called for opening of more drainage channels and all avenues for river run-offs to allow free flow of flood waters.
The stakeholders also suggested that tree planting should be greatly encouraged across the 36 states of the federation and Federal Capital Territory (FCT), as trees act as good shield against erosion.
Commenting, Mr Kadiri Olanrewaju, Head of Operations, Ekiti, Ondo and Osun, National Emergency Management Agency (NEMA), identified poorly-managed urbanisation, ecosystem degradation, deliberate sabotage and poverty as major causes of flooding in the country.
Olanrewaju, raising concerns over the current flood incidences in some parts of the country in spite of several warnings on the need to be proactive, said that the factors were the main drivers of vulnerability threatening human lives.
He alerted the people on the dangers of flooding, urging residents of Ekiti to take precautionary measures against flooding in their areas.
According to him, Ekiti State, for example, had long been marked among the states to experience flooding this year.
This, he said, was based on the weather forecast which revealed that most local government areas in the state were prone to flooding with high risks.
He said contrary to the impression by most people that government should be solely responsible for preventing or controlling disasters, and all that ought to play their roles to stop or minimise the menace.
"Everyone of us has witnessed the recent flood cases in Nigeria, which had claimed several lives, displaced thousands of people as well as destroying properties worth millions of naira. Floods cause widespread ecological dislocation, mostly as a result of carelessness of the people.
"It has become necessary for communities, individuals and authorities to continually take proactive measures. We need to believe that prevention is always better and cheaper than cure, as well as consider climate change issues more seriously," he said.
Also, Mr Jide Borode, General Manager, Ekiti State Emergency Management Agency, described NEMA as an important collaborating partner in the effective management of disaster issues.
Borode, therefore, advised the public to attach much importance to joining hands with the government in safeguarding lives and property.
He said that partnering with NEMA and other relevant authorities often facilitate the effectiveness of people's responses in risky communities and the adaptation of Internally Displaced Persons (IDPs) to the risk factors of flooding.
Similarly, an environmentalist, Mr Michael Ogunsina, said the major factor causing flooding and other environmental disasters was self-inflicted by residents living in the affected areas.
Ogunsina explained that many drainage channels, dams and flowing waters had been fragrantly blocked, polluted and littered with refuse, against consistent warnings and awareness campaigns of the government, thereby causing flooding during the rainy season.
The environmentalist lamented that some government officials also often neglected the directives of the River Basin Authorities on the guidelines to curb flooding.
He observed that both the Federal and State Governments were not proactive enough by neglecting waterways in need of dredging.
According to him, government agents would always prefer to wait for the disaster before they rise to take actions.
Ogunsina, therefore, called for proactive measures on the side of the government and the readiness to sanction violators of environment laws, right from the grassroots to the urban areas.
He decried the actions of the public and government officials, who disregarded the town planners' advice against building of houses on restricted areas or waterways.
Regrettably, he said that some unscrupulous people, particularly in government, would still give approvals to embark on such constructions.
He noted that officials of the River Basin Authority always gave correct signals as well as genuine advice to the government on ways to avert flooding; but, unfortunately, were simply disregarded.
Ogunsina said that one of the major roles of town planners was to curb environmental disasters by regulating the acquisition of land and building of houses, especially in areas prone to flooding.
He added that they equally help to decide on the best way to use land and building in achieving sustainability of the properties.
The effects of flooding on the nation, he said, included food scarcity, destruction of valuable properties, poor environment structure and bad roads.
In his reactions, an Ekiti-born Geologist, Mr Ayo Omotosho, said that environmental disasters ought to be controlled through proper planning and provision of necessary infrastructure.
According to him, environmental disasters are majorly human-induced, going by the day-to-day activities and refusal to take caution in preventing them.
Omotosho added that poor or non-existence of drainage systems was contributing to the havoc.
"Many residential areas have no drainage systems, but rely on natural drainage channels. With increase in urbanisation, more areas are built with concrete and cannot absorb water, thereby increasing it to run off.
"Another human-induced factor is poor waste management. In Nigeria, our poor attitude to waste disposal and non-provision of waste disposal services by the authorities also contributed to environmental disasters.
"Unregulated high urbanisation and expansion, without commensurate provision of urban infrastructure and amenities, is currently fighting back in Nigeria and this is regrettable.
"Corruption is also a very great factor in our country, whereby the town planning officials accept bribes and overlook issues.
"For instance, unauthorised use of land and altercations of approved construction plans are dangerous errors.
"Besides, some citizens capitalised on the loopholes of ineffective development control and extended their buildings over the approved areas; sometimes, they even go as far as building on drains," the Geologist said.
He, therefore, appealed to the governments, non-governmental organisations (NGOs), stakeholders and individuals to take the environment seriously by avoiding structures or habits contributing to the menace.
According to Omotosho, the negative effects of environmental disasters, especially flooding, if not curtailed, cannot be overemphasised, as they touch on the people's economy, health, social life and environment.
He, however, commended both the Federal and State Governments for always issuing flood warnings to the people across the country.
"Unfortunately, due to the poverty level of some citizens, lots of Nigerians risk staying at flood-prone environment, because they are helpless and do not have any other option," he said.
Meanwhile, a university lecturer, Olu Kehinde, warned that just as it was in other parts of the world, Nigeria would likely face the risk of more flooding.
This, Kehinde said, was in line with the 2022 seasonal climate prediction earlier released in the year by the Nigerian Meteorological Agency and the annual Flood Outlook, published by the Nigeria Hydrological Services Agency.
He said that the forecasts were coming to reality almost on a daily basis, as the nation was already witnessing calamitous consequences, with at least 32 states currently under threat.
Kehinde wondered why people took the experts' warnings for granted, while the three tiers of government failed to expressly swing into immediate action by taking preventive measures and pragmatic emergency relief programmes.
"Flooding in many other parts of the world, including the most advanced economies, should motivate Nigeria's Federal, State and Local Governments to take strong proactive measures. Complacency is a dangerous option," he said.
According to him, NEMA's earlier predictions on flooding were not expected to be misplaced, as one would have expected that relevant agencies mount necessary defensive measures in those areas.
In Osogbo, Mr Rufus Oyegbile, the Special Adviser on Sanitation to Gov. Adegboyega Oyetola, said that the state government had put necessary measures in place to prevent flooding in the state.
Oyegbile said that due to past flooding experiences in the state, the government had been taken proactive steps to prevent a recurrence.
According to him, flooding is a bad experience, which usually brings devastating effects on human lives.
"What we did during the dry season was dredging and desilting. Dredging is well done during the dry season.
"During the rainy season too, we used swamp buggies to expand and excavate the blockages in the waterways.
"The Ministry of Environment, through the Department of Flood and Osun State Emergency Management Agency (OSEMA), also asked people who erected buildings or structures along or on the floodplains to vacate.
"We also asked people erecting structures to observe a setback of a minimum of 15 to 20 metres away from the stream.
"Those who have their houses close to waterways have had their houses marked for demolition and equally, have been asked to vacate," he said.
Oyegbile said residents were also sensitised against the act of dumping refuse in the canals, drainages, rivers and streams, as it could block the waterways and lead to flooding.
"We are going round markets, telling the market heads how to dispose their refuse," he said.
He said that the Osun Waste Management Agency (OWMA) enforcement unit also engaged in sensitisation on proper waste disposal.
Also, Mr Dipo Alani, an environmentalist and flooding expert, said that flooding being experienced in the country was quite unfortunate, though preventable.
Alani said government was more reactive than proactive when it comes to issues of natural disasters adding that the Federal Government could have done better.
He explained that when Cameroon was building the Lagdo Dam in 1977, they had a meeting with the Nigerian Government then to also build its own dam to accommodate the water released from Cameroon.
According to him, the government had since 1977 not completed its dam, which should have served as a buffer for Lagdo Dam.
Ajani, however, advised state governments, mostly affected by flooding, to move those living in floodplains to another location and also demarcate areas in their respective states to separate habitable areas from flooding zones.
Also, the National Environmental Standards and Regulations Enforcement Agency (NESREA) in Osun says it will continue to work with stakeholders toward mitigating flooding in the state.
Its State Coordinator, Mr Muhammad Shukuweizu, said the negative effects of flood disasters on the nation's economy could not be overemphasised.
Shukuweizu said that government would not relent in playing its roles through proactive measures in ensuring the safety of lives and property.
He urged Nigerians to learn proper waste disposal in order to prevent drainage blockage, which could lead to flooding.
Also, Mr David Afolayan, a technological expert and Chief Executive Officer, GIS Consult, said that Nigerians, like any other citizens of other nations, were generating wastes which could contribute to environmental pollution.
"It becomes more evident in Nigeria, because of the lawless ways in which most cities are managed. Nobody cares about environmental laws and their enforcement is very minimal.
"So, activities like bush burning, burning of tyres, waste and all these go into the environment and affect the ozone layer, which then contribute to global warming.
"Most cities have waste dumpsites that are on open fire; waste on the streets and on the road median and when it rains, all these are washed into the gutters, river channels, clogging the various channels, which then contribute to flooding.
"Nigerians contribute in a great way to pollution and environmental hazards, which come back to hunt us," Afolayan said.
He, however, said that the way and magnitude of the flooding we are experiencing was beyond the waste we generated all alone.
"It is a global phenomenon that is regarded as climate change. The activities of the industrialised countries are largely responsible for global warming.
"Global warming has brought heavy rainfall, which is discharged into rivers and seas and has led to a rise in the volume of water; when it happens, all the buildings that are in the floodplains are impacted," Afolayan said.
The GIS expert called for improved performance by all state actors and enforcement of environmental laws to mitigate the effects of global warming.
"The response or preparedness of both the State and Federal Governments is inadequate.
"Yes, they made some efforts to sensitise people and raise awareness, as NIMET gave a lot of warming, but it is always never enough, due to the magnitude of the disasters that would be occurring.
"There is a need for a mainstream way of communicating dangers to the people. Government needs to enforce policies on environmental pollution and management.
"The government needs to take steps to remediate the impact of flooding. Government agencies need to work together as a team and not as individuals.
"When there is flooding, there is need for a well coordinated approach and use of technology as a form of response," he said.
According to him, the Nigerian Government needs to understand that it is a global issue and to see how other nations are responding and be guided in their responses.
"There is nowhere in the world that they can say they are fully prepared for the impact of climate change.
"They are all working toward mitigating its impact and how they can reduce their footprint that is contributing to it, identify key response units and collaborate; empower and provide resources as well as response strategies where people can evacuate to and guidance on where they should go, putting policies that will protect people and provide various resources for those that are immediately impacted, and as well prevent loss of lives," he said.
In his views, Prof. Gbenga Ehinola, Department of Geology, University of Ibadan, said that Nigeria has failed to do the minimum to keep its citizens safe from flooding, which he described as a recurring decimal.
Ehinola aligned his views with Austin Avuru, who said dredging River Benue and River Niger would go a long way in solving the flooding challenge.
According to him, dredging River Benue to Lokoja and River Niger from Baro in Niger to the Atlantic Ocean, to a minimum draught of 10 feet, will transform both rivers to the same economic value as the Nile is to Egypt.
"Most importantly, these rivers and their tributaries would constitute the critical drainage channels to ensure that adjoining towns and villages remain safe, while reaping the benefits of the fertile banks of these rivers," he said.
Also, Mr Tunji Adepeju, a financial expert, corroborated the claims that the current flooding seems to have arisen from the effects of climate change.
"We recall the blockage of the road linking Eruwa with Ibadan for a couple of days.
"Town planners could not have prevented what happened as we were told that Ogun-Osun River Basin Authority had to release the water in order to avoid more serious damage to the dam and other facilities," Adepeju said.
He said the problems at Lokoja and other coastal areas were beyond what town planning authorities could cope with.
"But, for streams overflowing within cities, towns and villages, I hold the opinion that many of us had failed to comply with the building rules regarding setbacks and so on. When flooding occurs in communities and such buildings are at risk, I, personally, will not blame the town planning authorities.
"Having said the above, I suggest that town planning authorities need to be more strict in ensuring that people, henceforth, adhere to building rules and regulations without sentiment.
"This is with the understanding that the flooding had left a lot of multiplier effects in the cost of living in the country in terms of prices of food items, fuel and coal," Adepeju said.
On the economic loss, the expert said that there would be food shortage arising from the washed away farmlands and produce.
"There would be loss of harvested crops and invariably, income of the displaced farmers and traders, overstretched facilities at the Internally Displayed Persons (IDPs) camps may lead to health issues and security will be compromised," Adepeju said.
In his contributions, Dr Soji Adekunle, a Director in the Ministry of Environment, said that the Oyo State Government had promptly responded to warnings from the Nigeria Hydrological Services Agency and NiMet.
Adekunle said that the prompt response was the main reason why the state had not recorded any incident of flooding this year.
According to him, prior to the warnings, the state government embarked on channelisation of rivers prone to flooding across the state.
"Government, through the Ministry of Land, Survey and Urban Development, in collaboration with the Ministry of Environment, ensured that structures on waterways were removed while habitants of buildings closer to riverbanks were advised to vacate.
"In addition, activities of Ibadan Urban Flood Management Project (IUFMP) are being felt in Ibadan and its less city.
"The project, being a World Bank supported one, was aimed at developing a long-term flood risk management framework.
IUFMP has been carrying out projects, such as rivers channelisation, construction of drainage channels, bridges and other projects, to curb/prevent flooding.
Also, Mr Emmanuel Adesokan, a Town Planner, attributed incessant cases of flooding across the country to non-adherence to town planning rules and regulations by developers.
Adesokan, the Chief Executive Officer, AdeSK Estate Consultant, said there was need for government and relevant agencies to put into consideration issues of flooding, while giving approval for any building design.
According to him, town planners have vital roles to play while seeking approval for construction of any structure, because standard shouldn't be compromised.
"Therefore, government and other relevant stakeholders, especially town planners, should ensure that professionalism is played to the core," he said.
Adesokan further called on the national and state bodies of town planners to rise up to the menace of quackery in the profession, saying that some of the flooding disasters caused by human factors, could be traced to activities of quacks.
He also urged government at all levels to intensify their monitoring and enforcement activities to check quackery and people who want to cut corners.
Also, Mr Tolu Oladeji, Town Planning Officer, Oyo State Ministry of Lands, Survey and Urban Development, said that the state had taken proactive steps in ensuring that all developers adhere to town planning rules and regulations.
Oladeji, admitting that some of the flooding cases recorded in the state were being caused by human factors, said the government had, on many occasions, marked structures on waterways for demolition, while advising owners to vacate.
He further hinted that the Town Planning Department has partnered with the Ministry of Environment in addressing the menace of flooding in some part of the cities/towns in the state.
In Ilorin, the management of Lower Niger River Basin Authority (LNRBA) advised civil engineers in Nigeria to always factor construction of drainage channels into road construction.
Its Managing Director, Dr Adeniyi Aremu, explained that disrespecting rights of waters and rivers would always cause flooding, leading to destruction of lives and property.
Aremu said human beings and water have their respective rights and that if humans infringe on the rights of rivers and waterways, there was bound to be calamity.
"Water too is a road user and a pedestrian. It has to move and you must give it its right to move or it will destroy the roads," he said.
The managing director said that some problems, peculiar in Nigerian cities, were that some cities had evolved before the Land Use Act, meaning that there was no proper planning.
He explained that with no proper planning, there was no provision for drainage system as arteries, adding that by its nature, water must flow from one location to another.
"The water will join together and form a body of water from the river and eventually, empty somewhere.
"If that channel is blocked, that's where we have problem. Those channels must be adequately designed.
"The channels designed must be able to accommodate the run-offs," Aremu explained.
According to him, the flow of water is a natural process, which at times, there are too much water that causes flooding and other times drought.
"Humans have to adapt to these natural phenomenon, but must also do everything possible to ensure that the rights of nature is obeyed and cared for," Aremu said.
He said that based on studies and results, experts in the authority calibrated and designed drainage systems and other water channelling systems.
Aremu further advised that to reduce the rate of deaths and destruction caused by flooding in different parts of the country, regulations must be followed and set-backs from the rivers must be maintained.
"If you have enormous amount of water, overflows and then, if you dump refuse into waterways, it blocks the water, causing overflows and leads to deaths and destruction of properties," he said.
Narrating their ordeals, farmers decried high rate of wastage suffered in their farmlands due to flooding.
They expressed worry over consistent losses being experienced annually during rainy season as a result of flooding.
A farmer, Mr Tunde Alabi, said that most of his farm produce had been washed away by flood.
"Last year, I suffered a loss in my farm, especially my yam farm was totally washed away by flood. I cried when I saw the damage done by the flood," Alabi said.
Another farmer, Mr Idowu Sunday, said that his rice farm was totally washed off as he couldn't harvest anything from the farm.
"I regretted farming last year as all my rice farm was soaked and washed off. I nearly committed suicide," Sunday said.
On his part, Mr Soliu Taiwo said flood was becoming a major challenge to farmers in the state.
According to him, most areas in Kwara are not safe to farm as they are waterlogged.
"No place can be guaranteed for farming again. Farmers in Kwara are suffering a lot, especially during rainy season," he said.
Another farmer, Mr Bunmi Aina, called on the government to support farmers by allocating safe environment for them to farm.
Aina also sought for the government's financial support and provision of farming incentives for farmers to enjoy.
Also, traders and drivers in Ilorin, attributed the recent hike in the price of rice to flooding in the border towns of the state, saying flood had stopped movement to border towns, thus making it impossible to get rice for sale.
A driver, Mr Yinusa Adisa, said he was not surprised at the surge in price of rice, because they had been unable to travel across to border towns as the roads had been submerged in water.
"The last trip I went to bring rice for my customers, I arrived here safely, only with the grace of God.
"One of my colleagues that went after I came back said he slept on top of his car for two days before he got help and all the rice he carried were spoilt.
"So, the traders are not getting new stock, thereby hoarding and increasing the price of the ones at hand," Adisa said.
A trader in Ipata Market, simply identified as Mummy Aisha, said it was unfortunate that flood had added to the already existing hunger in the land.
"We are not happy to be selling at this price, but we have to sell in relation to our cost price.
"Our suppliers said flood didn't allow them to get new goods; so, they are selling the one with them at high price. God should just come to our aid in this country," she said.
In Ogun, stakeholders called on both the Federal and State Governments to take urgent measures at mitigating the incidences of flooding in order to check its negative impacts on the nation's economy.
According to Alhaji Kamaldeen Akintunde, an environmentalist, flooding, in recent past, had been a major public health concern in Nigeria as obnoxious odour emanating from resulting stagnant water is injurious to health.
Akintunde, also the Secretary-General of the Ogun Muslim Council, said that flooding also has the tendency to undermine security, as perpetrators could take advantage of the environmental challenge to unleash terror on people.
He attributed causes of flooding in Nigeria to non-adherence to the provisions of Building Bye-Laws and other public health ordinances with poor solid refuse management.
He explained that the Ogun State Government had taken positive measures to prevent flooding, following heavy rainfall predictions by relevant agencies
Akintunde listed the measures as including dredging of canals, legislations, channelisation of water and public enlightenment
He, however, expressed concern that behaviour of the residents in terms of failure to comply with the environmental regulations had not complemented efforts of the government in checking flooding in the state.
"The state government is doing its best to minimise and mitigate the impact of flood, but citizens' behaviour and compliance with regulations remain key factors in averting flooding conditions or situation in our environment," he said.
Contributing, Mr Bela Oyeyemi, an environmentalist in Ota, described losses from flooding in Nigeria as colossal.
"Apart from submerging houses and farmlands, critical infrastructure such as schools, healthcare centres, police stations, banks and other offices were also affected, while some schools in the riverine areas were shut," he said
Oyeyemi noted that indiscriminate dumping of refuse was a major cause of flooding across the nation, stressing the need for River Basin Development Authorities to make emphatic efforts toward checking this.
Also, Mr Abiodun Ogunjimi, Secretary, All Farmers Association of Nigeria (AFAN), Ogun Chapter, described flooding as a natural disaster posing devastating effects on the cost of living in the country, especially on agricultural produce.
Ogunjimi noted that flooding had made the prices of food items to increase drastically.
He explained that flood often washed away the topsoil, which he described as the richest part of the soil, because of its large deposit of organic matter and other crop nutrients.
The secretary explained that many crops were destroyed by the flood, while damaged roads, resulting from the situation, had increased the cost of transporting the harvested agricultural produce.
He added that many smallholder farmers in the state had suffered from the natural disaster and it had really affected their outputs.
"Though, Ogun was not affected in the current flooding claimed to be caused by the release of water from the Cameroon dam, but this year, many of our farmers lost their crops and fishes to flood.
"Everything that has been committed, in form of finance, had been washed away and ravaged by this natural disaster. It is very unfortunate!
"It has mainly affected cassava, rice, and fish farmers, especially in the riverine areas like Ogun Waterside and Ipokia," Ogunjimi said.
Responding, Mr Ola Oresanya, Ogun State Commissioner for Environment, said the state government, through the ministry, had in April alerted the general public on early rainfall and the predicted flash flooding in the state.
"The state government had allayed the fears of residents of flood prone areas like Isheri, Akute, Warewa, Abule-Otun in Abeokuta and others living in lowland areas of the state, of any impending flood as a result of release of excess water from the Oyan Dam.
"We inspected the integrity and management strategy of the dam at its operational site in Abeokuta.
"The dam is currently operating at just 56 per cent of its water carrying capacity, so there is no excess water that will be released, which will cause flooding in those areas.
"The dam is, even considering how to accommodate more water for irrigation, as it is not anxious of any release.
"The concern of the management team of Oyan Dam is how to have enough water for use during the dry season, rather than releasing any water that will cause flooding," he said.
According to the commissioner, flooding in such areas, especially the border towns of the state that were close to Lagos, were due to encroachment on river tributaries as well as from tidal lock, arising from high rise in sea level.
"Such situation will cause backflow and spills as the areas are close to the Lagoon and not Oyan Dam," Oresanya said.
The commissioner, counselling residents of the areas not to entertain any fear, advised them to reduce all human activities on all river tributaries near to them and stop dumping wastes into drainage channels.
Also, a town planner,  Mr Taiye Taiwo, said that town planners have a lot of roles to play in mitigating flooding in the country.
Taiwo explained that the role of a town planner was to give approval and disapproval on whether a building could stand or not in a particular place.
"Town planners are expected to work with surveyors who should provide topographical layouts of areas.
"The town planners are the professionals who should study the information provided by the surveyor and then approve or disapprove construction of buildings along or around the coastal lines, river banks or streams.
"One of the major causes of flooding in Nigeria today is blockage of the waterways.
"Most people in Nigeria today purchased their land without proper documentation and afterwards, construct their buildings where they are not supposed to and thus affected free flow of water along the waterways.
"If we are allowed to carry out our duties and when we noticed construction on floodplains, we have no choice than to mark the building for removal to help mitigate possible flooding," he said.
Taiwo suggested that town planners needed full support of the government in carrying out their roles.
Mr Steve Abu, the Programme Manager, Climate Sustainable Development Network (CSDEVNET), said in Akure that the poor knowledge of disaster risks among the populace was a big challenge which accounted for the increasing rate at which environmental hazards triggered disasters.
Abu said: "We treat our environment with hatred and today, the consequences are here with us.
"Some of our behaviours and attitudes that constantly trigger environmental disasters included environmental pollution, burning of fossils, avoidable deforestation and improper waste management practices, to mention a few."
Abu admonished that warnings on disaster should be complemented with early response that could address looming dangers.
"When there is early warning information, be it for flood, conflict or what have we, there should be immediate response by activating our contingency plan for such hazard, but our own case in Nigeria is still far from this.
"In Nigeria today, the agencies that have statutory responsibilities to provide early warning information for flood, such as the NiMet and Nigeria Hydrological services that release Seasonal Climate Prediction and National Flood Outlook respectively, are doing their best to ensure that information is released, but what we do with the information as response still remains a big issue.
"No responsible agency in Nigeria at all levels should be exonerated because we have not been doing as expected. Our responses are not early enough, and we need to up our game in this aspect.
"A situation where many state and local governments do not have active and well equipped emergency agencies, less should be expected in terms of responses in such situations," he said.
According to him, most local governments, even the highly flood prone ones, do not usually follow up with flood early warning information released by the federal agencies.
"Looking at this gap, one can say we need to do more by making resources available for contingency planning, response equipment, and necessary capacity to respond timely to flood issues in the country.
"We need to track, monitor and follow up on early warning information regularly at all levels These are the basics to be able to respond effectively," he said.
The CSDEVNET Programme Manager desribed the fight against flood as a collective effort.
He said that places where buildings and structures were aproved on flood plain or water path, where setbacks were not kept, 'there is need to call town planners in such environment to questions"
"So our town planners need to ensure good structural practices that will ensure mitigation of flood disasters are implemented to letters. Building codes, set backs, building plans approval must be observed accordingly," he said.
Abu regretted that farmers, especially low income ones, had been dealt with perpetually by devastating flood.
"Agriculture remains a sector that has been at the receiving end. Farms and livestocks are swept away annually, hitting hard into the incomes, livelihoods and economy of the farmers," he added.
Also, an environmentalist in Okitipupa, Mr Yinka Fayehun, who claimed that 2022 recorded the worst flooding, identified the heavy downpours, which he described as a natural disaster, as the major cause.
Fayehun said that the heavy downpours were responsible for many deaths and had rendered so many Nigerians homeless in Delta, Bayelsa, Anambra, Kogi, Benue and Lagos, among others.
He also attributed another cause of flooding to the overflowing of river banks and dams which gave way because of the heavy downpour.
Fayehun identified other causes of flooding to indiscriminate dumping of refuse in the drainage channels and rivers across the states mentioned above.
The environmentalist said the the destructive impacts of the flooding, being currently witnessed in the country, ranges from collapse of properties, roads, destruction of farmlands, crops to loss of human lives.