The death toll from Tropical Storm Harvey is expected to rise as Houston and a wide swath of Texas face record rains and catastrophic flooding.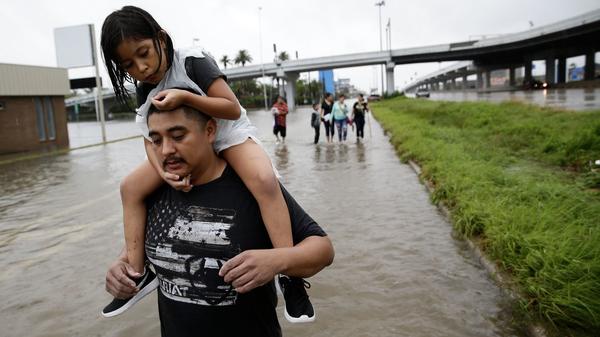 With deadly power, Tropical Storm Harvey has inundated Houston and southeastern Texas, bringing up to 2 feet of rain in 24 hours in the nation's fourth largest city and triggering flooding that the National Weather Service called "catastrophic" and "unprecedented."
At least five people were reported to have died, and authorities expect the death toll to rise. More than a dozen injuries have been blamed on the storm, which made landfall on Friday night as a Category 4 hurricane, the most powerful to hit the United States in a decade. Its winds have slowed to tropical-storm force.
Meanwhile, 911 operators fielded 56,000 calls in less than 24 hours, pleas for help went out over social media, thousands of rescues took place, and some residents made desperate treks across Houston's sprawling freeways. The White House says President Trump will travel to Texas on Tuesday.
With record floodwaters devastating much of southeast Texas, more than 450,000 people are likely to seek federal aid in recovering from Harvey, the storm that has battered the Gulf Coast for days, Brock Long, the director of the Federal Emergency Management Agency, said on Monday. The agency has estimated that about 30,000 people will seek emergency shelter, and that federal aid will be needed for years.
The Houston region now looks like an inland sea dotted by islands, with floodwaters inundating roads, vehicles, and even bridges and buildings. Thousands of people have been rescued from flooded homes and cars and many more are stuck in homes that remained above water but are cut off.
More than 30 inches of rain has fallen on parts of the Houston area since Thursday, the National Weather Service reported on Monday, causing catastrophic flooding that officials have called the worst in the state's history. Torrential rains will continue through Friday, with an additional 15 to 25 inches pummeling the region, the Weather Service predicted.
Harvey turned back out to sea on Monday morning, with the centre of the storm reaching the Gulf of Mexico between Corpus Christi and Houston, the National Hurricane Centre reported. It was expected to move slowly to the southeast on Monday, before churning to the northeast, along the Gulf coast.