The death toll from flooding in north eastern Nigeria after heavy rain and the release of water from a dam in Cameroon has risen to 30, with some 120,000 people displaced, an official has disclosed.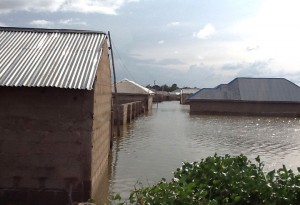 Water was released from the Lagdo Dam in late August in neighbouring Cameroon after officials there had warned Nigeria earlier. The opening of the dam led to flooding along the Benue River in Nigeria.
"So far we have recorded 30 deaths from the flooding caused by the release of water from Lagdo Dam in Cameroon," said Shadrach Daniel, secretary of the emergency management agency in Adamawa state.
"Twenty people are still missing. The flood has displaced 121,000 people, with 61,000 living in 30 camps across the state."
Daniel's agency had reported 10 deaths in late August. A cholera outbreak had also occurred, with 65 cases recorded, but no deaths, he said.
Flooding this rainy season in various parts of Nigeria, Africa's most populous nation, with some 160 million people, had already killed dozens. Much of the country has been affected by heavy seasonal rainfall.
Flooding often leads to widespread displacements and casualties during the West African rainy season, as well as disease outbreaks due partly to poor sanitation.
The government in Niger, which also neighbours Nigeria, said last week that at least 68 people had been killed and nearly 500,000 displaced by flooding since July.