Ghanaian civil society organisations (CSOs) have commended the on-going media advocacy on illegal mining popularly known as "galamsey" for succeeding in establishing the evils of the practice, particularly as it relates to destruction of water bodies and in stopping the practice for now.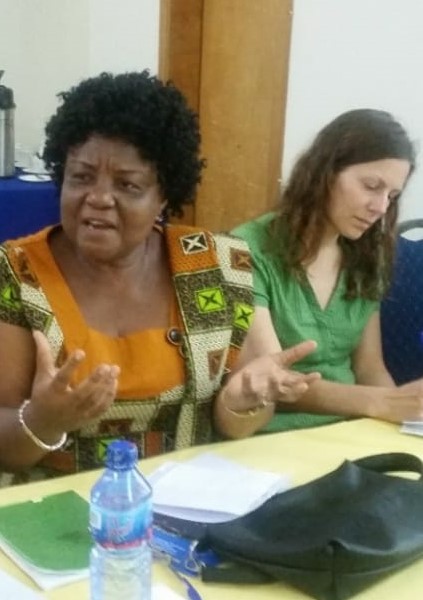 But they are of the view that the issue of illegal mining goes beyond shaming and isolating galamsey operators, and halting their infamous trade. It involves subtle and intricate issues that must be tackled beyond the "man with the pickaxe and shovel."
To this end, CSOs have been investigating the issues of mining in general and illegal mining in particular, to establish pertinent matters for urgent attention.
On May 8 to 9, 2017, a cross section of CSOs met in Accra, under the umbrella of the Legal Working Group, an initiative of ClientEarth a group of environmental lawyers, and deliberated on the knotty multi-dimensional issues of illegal mining, among other issues. The session was facilitated by Albert Katako of Civic Response and Mrs. Hannah Owusu-Koranteng of Wacam.
Mr. Katako stated that "illegal mining is not only associated with galamsey activities, but that multinational companies and registered Ghanaian companies doing large scale mining are also involved in illegal surface mining, with some of them using permits for prospecting to engage in full scale surface mining."
He contended that galamsey operators become scapegoats because, "it appears the negative effects of their activities are more visible," adding that "galamsey used to be based on the use of simple tools like shovel and pickaxes, hence minimal environmental damage occurred."
Mr. Katako said "the invasion of the galamsey sector by foreign nationals and the introduction of heavy earth moving equipment changed the dynamics," with the visible results of "the pollution of water bodies and the Birim, Densu, Pra, Ankobra and Tano rivers have become highly polluted with heavy metals and high level of turbidity." He added that these are sources of potable water for about half of the population in rural communities and urban areas.
He noted that the subtle implications include high cost of water treatment that is if treatment is possible; the likelihood of Ghana resorting to importing drinking water; and environmental degradation, which is manifesting in forest loss, and drying up of sources of water bodies. Others are food insecurity, pollution of the food chain with heavy metals; and risks posed to human health.
Mr. Katako pointed out that, "associated with all these, are the disrespect for laws, lack of law enforcement, and the complicity of politicians, law enforcers, and public officers."
Buttressing Mr. Katako's points, Mrs. Owusu-Koranteng argued that "the current discussion on illegal mining is too parochial and advocacy campaigns should begin to highlight the distortions in mining such as capital flights to develop other countries and the manipulation of the economy by big mining companies."
"Mining," she said, "has not only disrupted the livelihoods of community members, but has also introduced violence into communities, which the stoppage of galamsey is likely to heighten." Mrs. Owusu-Koranteng was in no way propagating the continuation of galamsey, but she was drawing attention to the need for the on-going advocacy to delve into how operators can be absorbed into much more responsible and sustainable livelihood ventures.
She was of the view that the answer to this question lies in the government's agenda of "one district one factory." The thinking is that if this agenda is strategically packaged, systematically implemented and well-coordinated on the ground, most of the now jobless galemsey operators will be gainfully engaged.
Answering a question on how best to balance development with the protection of the environment, Mrs. Owusu-Koranteng stated: "The act cannot be balanced as mining has done more harm than good." She made reference to a World Bank report to support her claim saying, "as far back as 2005 a World Bank Evaluation Report explained that 'the transfers from the sector to the economy as a whole have been particularly disappointing because of several factors, including contractual arrangements that give the Government a limited share of revenues and the problem of transfer pricing.'"
Mrs. Owusu-Koranteng emphasised that "under no circumstances must mining be allowed in protected forests such as Globally Significant Biodiversity Areas (GSBAs), it should be No." This is because "once a forest is exploited to an extent that community members can no longer pick snails or mushrooms, its integrity is lost forever."
She also touched on sector laws and policies, which she said have been crafted to favour companies to the neglect of community members and urged CSOs in their advocacy, "to push for legal provisions that can sustain the livelihoods of community members."
Contributing to the discussions, an associate of ClientEarth, Clement Akapame, said: "Stopping illegal mining is a huge challenge for government and industry. But strong forest and mining laws mapping clear guidelines for areas where mining is not permitted, and rules for where they are, is critical when forests and gold deposits overlap."
ClientEarth law and policy advisor, Caroline Haywood, said: "The Government's current strategy for addressing illegal mining does not consider the impact that illegal mining has on Ghana's forests. It overlooks the role that forest laws and officials could play in addressing illegal mining – bringing more manpower, potentially more financial resources, as well as experience working in forests – and misses some important allies in the fight against illegal mining."
The discussions raised further questions on how the momentum can be sustained after arresting the threat to water security and environmental degradation. The consensus was for a thorough examination of the political economy of mining, especially small scale alluvial mining so that livelihoods of communities who depend on the practice are not disrupted because of the effects of elite capture.
The meeting flagged for further discussions issues including the adequacy or inadequacy of current laws and policies to address the identified challenges, the conflicts in sector policies, the cost of mining to the country's environmental integrity, and how best to deal with polluted water bodies and lands that have been degraded and polluted.
The CSOs who have been mostly sensitising community members and lobbying policy and decision makers, have now positioned themselves to strengthen the on-going advocacy. So, on Wednesday, May 17th, 2017, Wacam and Tropenbos Ghana are facilitating a national forum in Accra on irresponsible mining.
By Ama Kudom-Agyemang in Accra, Ghana