About 16 Nigerian Cricket players and officials have departed the country for South Africa, ahead of the International Cricket Council African division one qualifiers.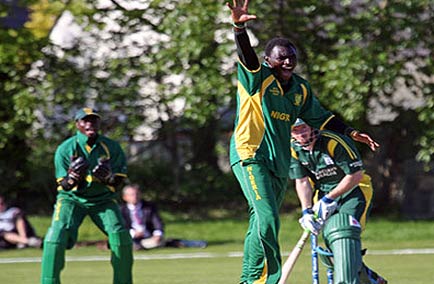 The senior men national team has been in camp for over a month in preparation for the qualifiers.
Before their departure, the captain of the team, Chimezie Ewuzurinke, said the team was ready to give the country a good representation in South Africa.
"Mentally, psychologically and physically, we are up to the task right now. For what I have seen, the spirits of the boys in camp have been high. We are sure of getting to the next stage."
President of the Nigeria Cricket Federation, Emeka Onyeama, is optimistic that the Nigerian team will come out tops from the qualifiers.
"Cricket is about perseverance, and since Team Nigeria is going to a more conducive natural environment, they will make qualification. I wish them luck as I believe the outing will be a beginning to Nigerian Cricket."
Nigeria will be competing in the African qualifiers against Ghana, Sierra Leone, Tanzania and Botswana for a place in the World Cricket League division five.
By Felix Simire