The heads of the International Monetary Fund (IMF), the World Bank Group (WBG), the World Health Organisation (WHO), and the World Trade Organisation (WTO) issued a joint statement, published in newspapers around the world, outlining a $50 billion health, trade, and finance roadmap to end the COVID-19 pandemic and secure a global recovery.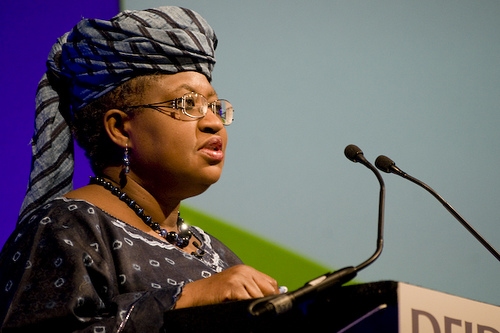 IMF Managing Director Kristalina Georgieva, WBG President David Malpass, WHO Director-General Tedros Adhanom Ghebreyesus, and WTO Director-General Ngozi Okonjo-Iweala released the statement ahead of the Group of 7 (G7) Leaders' Summit in Cornwall, UK, taking place from June 11 to 13, 2021.
In their joint statement, the leaders of the global financing, health, and trade agencies announce a new commitment to work together to scale up financing, boost vaccine manufacturing, and ensure the smooth flow of vaccines and raw materials across borders.
The leaders highlight access to vaccination as key for achieving broad-based recovery and ending the health crisis. They call out inequitable vaccine distribution, and warn about a "two-track pandemic" where richer countries have access to vaccines and poorer ones are "left behind." This, they argue, leads to "deepening divergence in economic fortunes, with negative consequences for all."
The leaders cite a recent proposal from the IMF, outlining targets and actions to end the pandemic. According to the proposal, an estimated $50 billion will bring the pandemic to an end faster in the developing world, reduce infections, decrease loss of lives, accelerate economic recovery, and generate around $9 trillion in additional global output by 2025. With around 60% of the gains going to emerging markets and developing economies and the remaining 40% expected to benefit developed countries, the leaders argue it is "a win for all."
The necessary actions this objective entails are as follows:
Increase ambition by raising the WHO and COVAX goal of vaccinating at least 30% of the population in all countries by the end of 2021 to 40% through other agreements and surge investment, and at to least 60% by the first half of 2022;
Insure against downside risks such as new variants that may necessitate booster shots by, among other actions, investing in additional vaccine production capacity, diversifying production to regions with little current capacity, sharing technology and knowhow, and removing all blockages to expanding supply, including WTO members accelerating negotiations towards a "pragmatic solution around intellectual property"; and
Boost testing and tracing, oxygen supplies, and therapeutic and public health measures, while ramping up vaccine deployment.
Regarding the costs of these measures, the leaders indicate there is a "strong case" for grants of at least $35 billion, citing "positive signals" from the G20. They state the remainder of the financing plan – around $15 billion – could come from national governments, with support from multilateral development banks (MDBs), including the World Bank's $12 billion financial facility for vaccination. The leaders also note the need for additional financing of about $13 billion to boost vaccine supply in 2022.
To realise the proposed plan, the leaders call for speed and coordination, and warn that "the window of opportunity is closing fast."