The Pan African Vision for the Environment (PAVE) under the IPEN Toxics-Free SDGs (TFSDGs) Projects Phase 3 on COVID-19 Chemicals and Wastes, has concluded a Research Study on COVID-19 Impacts on Chemicals and Wastes in Nigeria, with the objective of documenting Covid-19 impacts on chemicals and waste in Nigeria and make necessary policy recommendation.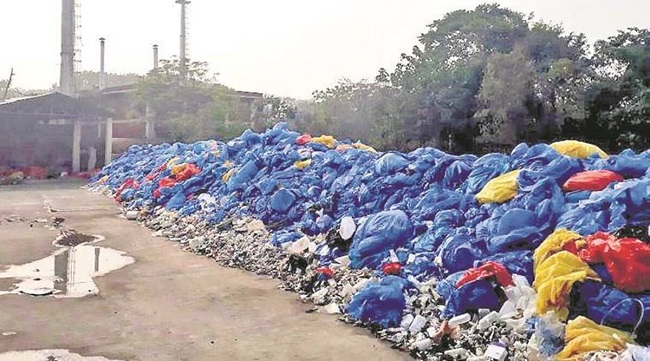 In a statement. Mr. Anthony Akpan, President of PAVE, said that under the situation of movement restrictions due to the COVID-19 pandemic in Nigeria, there was the likelihood of increased generation of solid waste because of increased consumption, with increased accumulation due to working from homes and surges in household waste due to increased online shopping.
New kinds of wastes, such as used face masks and hand gloves, empty hand sanitiser containers and other plastic materials, have also been introduced into the environment, and such wastes have become somewhat ubiquitous, with fly-tipping (illegal dumping) and improper disposal.
He added that for this project, PAVE completed a desktop review, undertook one-on-one interviews with key respondents (such as The Lagos Waste Management Authority and Abuja Environmental Protection Board) and conducted field observation visits to poor communities in the states and areas that were studied.
The Lagos Waste Management Authority in Lagos and Abuja Environmental Protection Board in Abuja, which are the epicentres of the COVID-19 pandemic response in Nigeria, were also visited. Respondents were selected to achieve balance in gender, socio-economic status and other locational characteristics, stated Akpan.
At the conclusion of the project, PAVE agreed that, although a raft of policies have been developed and adopted in Nigeria regarding the COVID-19 emergency response, there is a lack of guidance on how to adapt regular municipal waste management services to a pandemic situation.
More importantly, a notable gap in Nigeria's existing solid waste management (SWM) efforts is the absence of an inclusive SWM policy. The study argues that SWM under the COVID-19 pandemic qualifies as an emergency service and ought to have been treated as an essential service in Nigeria.