The 55th meeting of the Global Environment Facility (GEF) Council convened in Washington, DC, US, from December 18 to 20, 2018 at World Bank headquarters. Representatives of governments, international organisations, and civil society organisations (CSOs) attended the three-day meeting, which also included the 25th meeting of the Council for the Least Developed Countries Fund (LDCF) and Special Climate Change Fund (SCCF). The meetings were preceded by a consultation with CSOs on December 17.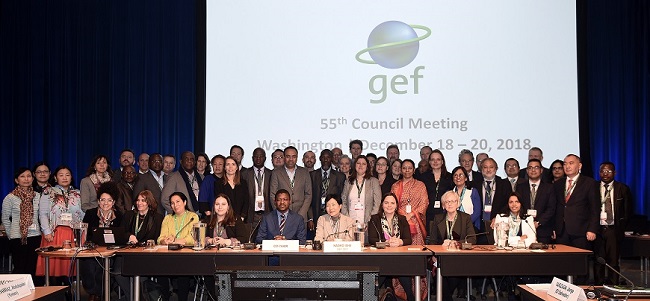 Naoko Ishii, GEF Chief Executive Officer (CEO) and Chairperson, and Abdul Bakarr Salim, Sierra Leone, served as Co-Chairs for the meetings.
The GEF Council adopted the first Work Programme since the approval of the seventh replenishment of the GEF Trust Fund (GEF-7). The Work Programme comprised 18 projects in 25 recipient countries, and amounted to $157.8 million, including GEF project financing and Agency fees, and is expected to leverage $819.7 million in co-financing. In addition, the Council of the LDCF/SCCF adopted a Work Programme comprising six project concepts, with resources amounting to $45.85 million for the LDCF, including project grants and Agency fees.
The Council also discussed and approved several policies, guidelines and safeguards on measures aimed at enhancing the efficiency, accountability and transparency of the GEF. These measures included new policy procedures to speed up the preparation, endorsement, implementation, and closure of projects. A policy regarding improved access to information and revised environmental and social safeguards throughout the GEF project and programme cycle were also adopted.
The Council heard updates from representatives of the Conventions for which the GEF serves as a financial mechanism regarding recent and upcoming meetings, decisions and other relevant activities. The presentations by the Minamata Convention on Mercury, Stockholm Convention on Persistent Organic Pollutants (POPs), UN Convention to Combat Desertification (UNCCD), UN Framework Convention on Climate Change (UNFCCC), Convention on Biological Diversity (CBD), and Montreal Protocol prompted Council Members to reflect on the GEF's unique role in integrating issues and generating synergies.
At the conclusion of the meetings, Council Members reviewed and approved the Joint Summaries of the Chairs for the GEF Council and LDCF/SCCF Council meetings.
The GEF was created in 1991 to formulate financing responses to the mounting concern in the preceding decade over global environmental problems. The GEF operated in a pilot phase until mid-1994. Negotiations to restructure the organisation were concluded at a GEF participants' meeting in Geneva, Switzerland, in March 1994, where representatives of 73 countries agreed to adopt the GEF Instrument.