Nigerian climate justice activist reflects on his experience attending COP26 and illustrates how, according to him, the conference ultimately let us all down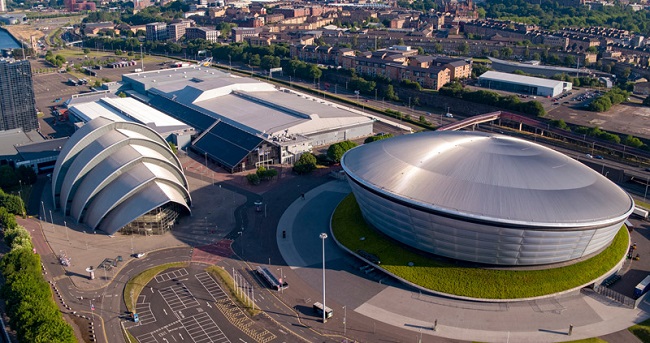 World leaders have gathered in Glasgow to take part in the COP26 climate summit, a UN conference to avert the disastrous effects of climate change. The summit comes six years after the Paris Agreement was signed by over 190 countries to limit rising global temperatures to well below 2 degree C with a view of reaching 1.5-degree C.
The two-week event, held from October 31 to November 12, 2021, saw leaders from more than 190 countries, thousands of negotiators, researchers, and citizens coming together to strengthen a global response to the threat of climate change, negotiating and compromising on the future of our planet.
This year's summit was hosted by the United Kingdom in the Scottish Event Centre (SEC) in Glasgow under the theme "Together for our planet". Alok Sharma, a UK member of parliament, served as president for the conference, which was touted as the "last best chance for humanity".
The two weeks spent in the UK has been an eye opener for me on the processes of the UNFCCC, it gave me a sense of how best we can support the implementation and achievement of the Paris Agreement, at individual, organisational and national levels which is possible even though it's embedded with tremendous number of obstacles.
It was with this concern in mind that I keenly followed announcements and updates related to COP26 with curiosity, especially in light of COP25's disappointing outcomes and inclusivity concerns. After passing through a string of tests and clearances, I was even able to attend the conference in the UK. I was cautiously optimistic, as COP26 was billed as the most inclusive COP ever.
Even though research reports indicated that COP26 which made history by informing fossil fuel industries like Shell and BP that they aren't welcome at #COP26Glasgow, yet they infiltrated the conference with the highest number of delegates larger than any other country in the world with a total number of 503. From my own perspective, it's clear that since in the 1970's, fossil fuel industries knows that burning their oil will promulgate global warming, yet they delay the inevitable. The most interesting yet painful observation for me was seeing that fossil fuel lobbyists outnumbered national delegations at #COP26Glasgow.
We saw #COP26Glasgow as an avenue where we can pave the path to witnessing a tremendous recovery as Sir David Attenborough said and I quote: "We are, after all, the greatest problem solvers to have ever existed on Earth. If working apart, we are a force powerful enough to destabilise our planet. Surely working together, we are powerful enough to save it.
"In my lifetime, I've witnessed a terrible decline. In yours, you could and should witness a wonderful recovery."
It's quite appealing though that #COP26Glasgow isn't a total failure. Its main agenda is inclusive of discussions and agreements on finance, adaptation, mitigation, and partnership. Campaigns like Race to Resilience and Race to Zero which were quite popular and are expected to deliver on their desired outcomes.
Thus, the conference did achieve few breakthroughs which are, of course, on a path to save our planet:
The Glasgow Climate Pact "requests" countries to "revisit and strengthen" their climate pledges by the end of 2022, calling for a "phasedown" of coal. Urging developed country parties to at least increase two-fold their collective provision of finance for adaptation and sets up processes aimed at financing loss and damage. Moreover, the Glasgow text also welcomed the findings of the IPCC's 'Code Red' report under "science and urgency".
Additionally, the Article 6 Rulebook was finalised after six years of stalling compromise and negotiations, closing off the time-honored issue of "double counting" emissions. The use of pre-2021 credits generated under the Kyoto Protocol's Clean Development Mechanism also witnessed the light of the day.
Finally, a declaration on forests and land use was signed by more than 130 countries, promising to "work collectively to halt and reverse forest loss and land degradation by 2030". A global methane pledge was also signed by 105 countries to cut their methane emissions by 30 percent between 2020 and 2030.
Sadly, little substantial progress was achieved on the critical issue of loss and damage, as the topic was shelved until COP27 at Sharm El-Sheikh, Egypt, November 2022, but the decision is filled with uncertainties especially with the current scenario of the $100 billion Climate Finance yet to become a thing of the past, which is a critical issue for the global south whom are two-thirds of the world live underseas and face calamitous threats to their wellbeing.
My experience kept bugging me even after the conference, the feeling that we as young people demanding climate justice for the global south are not actually welcomed by the global north where peace and prosperity of one-third of the world lives.
Whenever I entered the conference centre, I felt ignored. There were times when I would leave the conference venue and sit by the Clyde Bridge and watch the water or go to George Square to watch the pigeons and sculptures.
During some core negotiation meetings, I witnessed our global leaders are negotiating over our own existence as young people, bargaining on whether or not to ban fossil fuels or not, when we all are familiar with the risks and challenges, seeing what people are experiencing in least developed nations like Burundi and Malawi, seeing how people from the Lake Chad region battle with food insecurity and conflicts.
It was disappointing to see countries like the United States antagonising the proposal of finance for loss and damage, especially with all the political brouhaha stating that climate science is back in the White House with the new administration of Joe Biden.
I was inspired that there is hope for the planet when I observed negotiators from Least Developed Countries, African groups like Pan-African Climate Justice Alliance, Climate and Sustainable Development Network of Nigeria, and Small Island Developing Countries not willing to compromise and making tremendous efforts pushing the Global North hardest for reparations to the Global South who are most vulnerable and bears the consequences of climate change and its impacts.
There were a series of demonstrations in and outside the COP venue, usually in front of the plenary and within the city of Glasgow, but the unfortunate strict security only served to terrify demonstrators demanding a better and inclusive atmosphere for all. Thousands of youths and people from different sectors protested, chanted, and rallied, demanding climate justice.
Even though global leaders disappoint us with their own interests, it's clear evidence that young people are tired of the stalling in deciding their future and hence, they are ready to take over ensuring a more equitable and sustainable planet.
Nations in the Global North celebrate a successful #COP26Glasgow, I was left perturbed. The outcomes were nowhere a path which aims at dealing with the scale of the climate emergency. One thing I left COP with is hope and zeal to push for the actualisation of the Glasgow Pact and keep demanding for climate justice, highlighting the stories of people in grassroots and marginalised communities battling with the impacts of climate change.
Conclusively, lots of important people make significant impact to my time in Glasgow, I will of course use this opportunity to appreciate my host and my Glasgow Family, Mr. and Mrs. Stewart; my mentor, Dr. Barton Rubenstein; my friend, Fredrick Darley; Joshua Omunak,; KC Shreya; Pius Oko, Abu Stephen and the entire Climate and Sustainable Development Network of Nigeria; Pan-African Climate Justice Alliance; and YOUNGO family.
By Ibrahim Muhammad Shamsuddin