The Chilean Environment Minister, Carolina Schmidt, has been officially handed ownership of the IFEMA Conference Centre in Madrid, Spain, where the two-week UN Climate Change Conference (COP25) will commence on Monday, December 2, 2019. She was accompanied by UNFCCC Executive Secretary, Patricia Espinosa, and Spanish Minister for Ecological Transition, Teresa Ribera.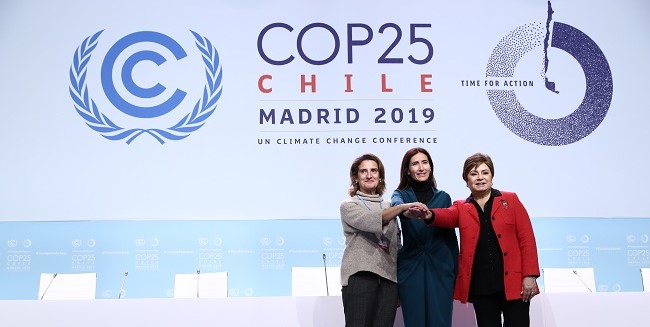 Over 1,500 people have worked for over three weeks to assemble the installations at IFEMA, which will receive over 25,000 participants following the commencement of proceedings on Monday.
Madrid is the city that welcomed COP25 after Chile took the difficult decision not to host the meeting.
"I would like to give a special thanks to the two women that join me this morning – personal friends and tremendous examples of strength, conviction and a sense of urgency in the face of the climate crisis – Teresa Ribera and Patricia Espinosa", said the President Designate, Schmidt.
The Chilean Environment Minister met with Espinosa, and Ribera, to lead a symbolic ceremony in one of IFEMA's plenary halls, in which the venue and its various installations where officially handed over for the proceedings.
"I want to thank Teresa, and through her all of the government for their enormous support and generosity in hosting the COP25, which Chile presides. This is the best possible example of multilateral work and fraternity in the face of a common problem: the climate crisis," declared Schmidt.
At 8 AM on Monday, the 25th conference of the Parties will be opened, and here "we have to change course. Countries must work together and commit to more ambitious goals that will allow us to bridge the gap between current commitments and those needed to avoid the rise of temperatures above 1.5oC as the science dictates," Schmidt added.