"Once again, we passed the exam, we organised an absolutely top-class world party at the highest level," President Andrzej Duda of Poland said on Friday, December 14, 2018 in the sidelines of the 24th Session of the Conference of the Parties (COP24) to the UN Framework Convention on Climate Change (UNFCCC) in Katowice.
Poland had previously hosted the COP in Poznan (2008, COP14) and Warsaw (2013, COP19).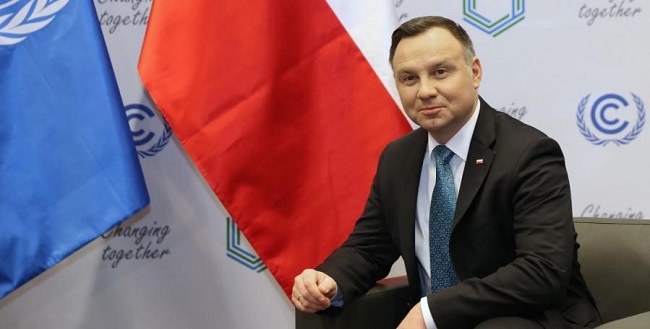 The president had once again visited the Katowice summit where he met, among others, with UN Secretary General Antonio Guterres, chairman of the Intergovernmental Panel on Climate Change (IPCC) Hoesung Lee and COP24 president Michał Kurtyka.
"I have great satisfaction because everyone praises the organisation of the climate summit. All the people I spoke with emphasise that it is perfectly organised, that everything is going very well," said the president after the meetings. "We, Poles, are responsible for this organisation, because we are the host of the summit, the summit is in Katowice."
He added: "I am glad that once again we passed the exam. We've organised an absolutely top global event at the highest level. Everything is done as planned, everything goes very smoothly, the participants are happy, and everyone underlines it very strongly.
"I am glad that from the organisational side, for which – I stress – we bear responsibility, everything went well. I am counting on the fact that it will be complemented by a compromise, concluded – I hope – even today."
While declaring his support in seeking a compromise at the summit, he went further: "Everyone is focused on this at the moment. I am also trying to support these aspirations, and it was precisely on this subject that I spoke with both secretary general Antonio Guterres and the president of the conference Kurtyka."
It was initially thought that the summit, which attracted about 21,500 participants from around world, would be extended until Saturday, but COP organisers were optimistic that that might not be necessary as a "road map" of the implementation of the Paris Agreement could emerge late on Friday.