The United Nations Climate Conference (COP 24) on Wednesday, December 5, 2018 convened a high-level session launching eight days of focused events and dialogues on Global Climate Action, aimed at building a bridge between government delegates and non-Party, public and private stakeholders in the global response to climate change.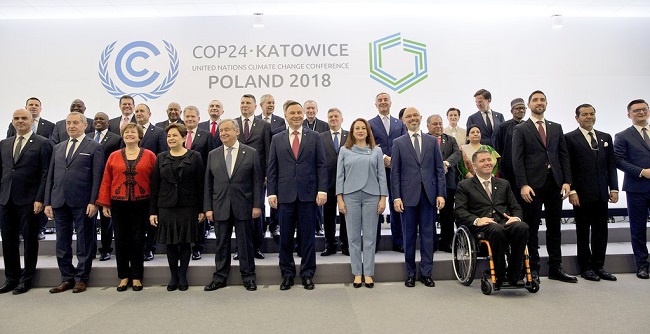 The event, which featured United Nations Secretary-General António Guterres, Poland's Prime Minister Mateusz Morawiecki, COP 24 President Michał Kurtyka, and UN Climate Change Executive Secretary Patricia Espinosa, highlighted the mutually reinforcing and critically important cooperation between state and non-state actors needed if the world is to keep on track to the 1.5C goal of the Paris Agreement.
Speakers matched their words with action – including ING CEO, Ralph Hamers, who announced a landmark finance collaboration with BBVA, BNP Paribas, Standard Chartered and Société Générale to measure the climate alignment of their lending portfolios, with the aim of steering them in line with the Paris Agreement. Specifically, the banks – which have a combined loan book of €2.4 trillion across a range of sectors – have signed a commitment letter, pledging to finance change and put their balance sheets to work.
Of this commitment, Mr. Hamers said, "It shows that banks are becoming increasingly ready to take the bold steps needed to play our part in achieving a low-carbon economy."
To support the bridge-building effort, First Minister of Scotland, Nicola Sturgeon, announced £200,000 for the Marrakech Partnership for Global Climate Action, to encourage collaboration between government, business, and wider society to immediately lower emissions and increase resilience against the impacts of climate change.
In his remarks opening the morning's session, United Nations Secretary-General António Guterres spoke on the central theme of the event, Embracing Inclusive Multilateralism: "Only global answers can solve global problems. Embracing inclusive multilateralism is the way to go, but it needs to adapt to the meet the global challenges we currently face. We now need networked multilateralism."
Dr. Mae Jemison, the first African American woman in space, joined the Secretary-General in sounding a note of urgency for assembled delegates, saying, "We need reality checks and we need hope. The earth doesn't need us; we need the earth."
After these remarks, presided over by Poland's Prime Minister, Mateusz Morawiecki, and COP 24 President, Michał Kurtyka, the focus of the session moved to a second stage, in the main Plenary for conversations moderated by explorer Bertrand Piccard, who led a discussion on the need for and opportunities to be found in global climate action, with First Minister Nicola Sturgeon, Dalmia Cement CEO Mahendra Singhi, ING CEO Ralph Hamers, and Indigenous Leader Hindou Oumarou Ibrahim.
First Minister Sturgeon acknowledged the imperative of a just transition, from societies' present reliance on fossil fuels to a climate neutral future: "We have a moral responsibility to do what we can to prevent and mitigate the effects of global climate change. That's why we've created the Just Transition Commission to demonstrate that there is nothing to fear and everything to gain from the transition to a low-carbon economy."
Leading-up to the close of the event, the High-Level Climate Champions, H.E. Minister Inia Seruiratu and Special Envoy Mr. Tomasz Chruszczow, highlighted the central role that global climate action must play in driving enhanced national action.
Minister Inia Seruiratu said, "The message for urgent action has been the message throughout 2018 – coming from all stakeholders, across all regions, but most especially from us in vulnerable regions and small island developing states. We will build the vision of tomorrow for a net-zero emissions world and resilient societies."
Concluding statements, in the spirit of State and non-state collaboration, were made by Parties; namely, European Union, Saint Lucia, Palestine, and Japan.