The government of Germany and the United Nations (UN) on Monday, September 4, 2017 co-signed the bilateral agreement which forms the legal basis for organising and hosting the 23rd Session of the Conference of the Parties (COP23) to the UN Framework Convention on Climate Change (UNFCCC) holding in the German city of Bonn from November 6 to 17, 2017.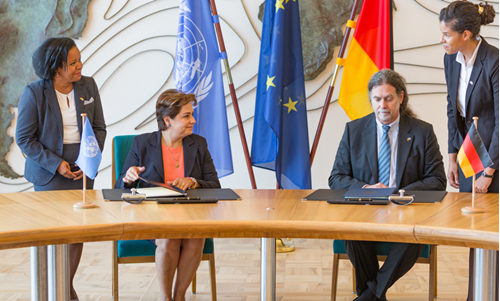 The conference, which is organised by the Bonn-based UNFCCC and is presided over by Fiji, is organisationally and logistically supported by the German government, with further support from the state of North-Rhine-Westphalia and the City of Bonn.
When signing the agreement on behalf of Germany, State Secretary Walter Lindner of the German Foreign Office stressed the geopolitical significance of climate action in a world in which the impacts of climate change and the urgency to act are becoming increasingly apparent.
"Climate change often causes water and food shortages, leads to conflicts over land and resources and consequently gives rise to refugee and migration crises. The UN Climate Change Conference in Bonn is therefore of particular global relevance. And once again, Bonn has an opportunity to demonstrate its caliber as a UN city and as a conference location," he said.
Commending Germany's climate leadership, UNFCCC Executive Secretary Patricia Espinosa, the UN's top climate change official, said: "Germany's support for Fiji, for the UN climate change team and for every person who will attend COP23 shows the country's commitment to climate and sustainable development goals. For participants ranging from Heads of State and Ministers to CEOs of major companies, civil society and young people, Germany will be the hub global climate action in November."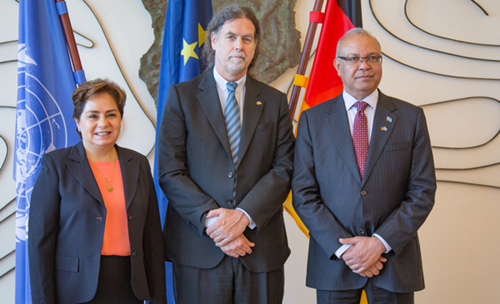 "Germany has given the UN a home in Bonn with world-class facilities – the UN campus and the World Conference Centre. The City of Bonn has been an exemplary partner to work with, as has the government of the State of North Rhine Westphalia. And Bonn is a UN city and is now truly becoming a sustainability hub," she added.
The central aim of the November climate meeting COP23, which will be attended by more than 20,000 participants, is to take forward work on the implementation of the Paris Climate Change Agreement and to galvanise climate action by all relevant stakeholders.
The signing ceremony was also attended by Deo Saran, Fiji's ambassador to Belgium and permanent representative to the European Union.