Vitamin A is known to be essential for good vision, proper development of embryos, healthy skin and mucous membranes. It helps cells reproduce normally, plays a role in immune system function, growth, bone formation, reproduction and wound healing. It then follows that Vitamin A Deficiency (VAD), considered a public health problem especially in Africa and South-East Asia, will lead to high risk of disease and death in children and pregnant women.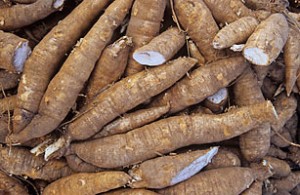 Reports say that about 250,000 to 500,000 malnourished children in the developing world go blind each year from VAD, with about half of them dying within a year of becoming blind.
VAD was supposed to have been eliminated since 2010 in Nigeria, going by the 2002 UN Special Session on Children. But, with the efforts of a team of researchers led by the International Institute of Tropical Agriculture (IITA) in developing vitamin A-fortified cassava, the nation is hopeful of meeting the target soon. The researchers said the cassava could help put an end to malnutrition due to vitamin A deficiency.
Mr. Adetoro Adeniyi of Cassava Breeding Unit, IITA in Ibadan, Oyo State, discloses that the team was motivated to search for ways of improving the nutritional value of cassava, believed to be the fourth largest staple after wheat, maize, and rice with an average consumption of 600 grams per capita per day in Nigeria, and having over 200 million people in sub-Saharan Africa relying on it.
"When we realised that most people around South West Nigeria in particular always complained of eye problems as a result of consuming white garri made from cassava, we decided to think of how to improve the nutritional value of cassava. In the South West, if someone has eye problem, they say maybe he is consuming too much of garri. We then thought of what we could do to solve this problem of people developing eye problems as a result of consuming white garri."
But the Environmental Rights Action/Friends of the Earth Nigeria (ERA/FoEN) has called on the Federal Government to stop the IITA and other groups it claims is fronting for big agribusinesses and biotechnology companies from "tampering" with the nation's cassava.
The ERA/FoEN made the call on the heels of disclosures by Harvest Plus, an organisation it alleges has strong links with the IITA, that it had started the distribution of 10 million vitamin A cassava stems imported from Brazil to 15 million farmers across Nigeria.
Country Director of the Ibadan-based Harvest Plus, Dr. Paul Ilona, while delivering lorry loads of the cassava specie to farmers in Ihiala Local Government Council Area of Anambra State, reportedly said that Anambra is one of the pilot states that would receive at least three million cassava stems, which will be distributed to farmers in all the local councils in the 2013 planting season.
Ilona had reportedly revealed that the vitamin "A" cassava species originated from Brazil with 10 million tons of the cassava stems planned for distribution in six selected states in the six geographical zones of Nigeria between now and October.
The ERA/FoEN has, however, described the development as "completely absurd", saying the distribution of the "so-called" Vitamin A cassava imported from Brazil violated the rights of Nigerian farmers and the Nigerian citizenry to choice of what to grow or eat.
"This development is a rude shock. It is an affront that IITA and its front groups are all masquerading on behalf of big agribusinesses and the biotechnology industry to supplant local staples in favour of foreign ones in the name of enriched vitamins. Tampering with cassava which we have self-sufficiency in producing is the height of attempts by IITA and its allies to colonise what we grow and eat in the guise of enriched food vitamin that merely promotes food dependency," the ERA/FoEN Executive Director, Godwin Ojo, was quoted as saying.
"Nigerians will want to know which government agency gave the permission for the importation and distribution of the Vitamin A cassava. This slap on the face of Nigerians is a grand illusion and a replay of the Golden Rice hoax of 1999 which was offered by the biotech industry as the remedy for Vitamin A deficiency (VAD). That product turned out to be a comic contraption as it was discovered that the average adult would need to eat up to 9 kg of the Golden Rice a day for the required intake of vitamin A which mere two carrots can provide. Sadly, here we go again," Ojo added.
He alleged that the distribution of the Vitamin A cassava without popular consent has reinforced the ERA/FoEN demand that Nigeria's biosafety laws are weak and must be opened up for debate with critical stakeholders such as farmers, representatives from non-governmental organisations and consumers, making an input.
"Nigeria is already the highest producer of cassava. Allowing the IITA to tamper with the crop is the surest way of ceding our food sovereignty to multinational companies whose modus operandi is to maintain a vice-like grip on our farmers strictly for profits and controlling what we eat. The government must compel Harvest Plus to recall distributed so-called vitamin A cassava stems and halt further distribution. Anything short of this is unacceptable," Ojo stated.