As India gets ready to mark the Mahatma's 150th birth anniversary this year with celebrations about the nation's impending open defecation free ODF status, a new analysis by Centre for Science and Environment (CSE) and Down To Earth magazine has called for a drastic reality check.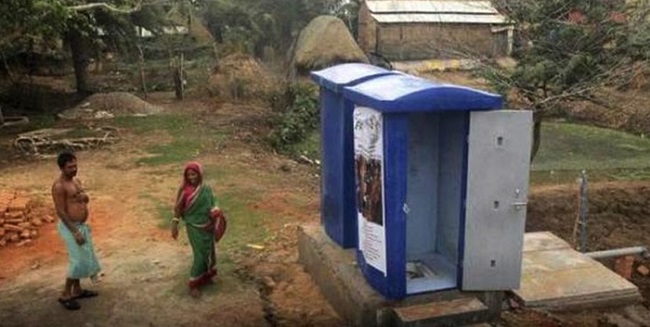 By February 2019, as per the government, India will lay claim to be an open defecation free nation. Under the flagship scheme Swachh Bharat Mission (SBM), 76 per cent of India's villages have been declared ODF. Around 83.8 million toilets have been built.
Says CSE director general Sunita Narain: "This means the infamous distinction of having the world's largest number of people going out to defecate in the open is all set to be history. This switchover – involving a generation old behaviour of some 600 million people – is no mean feat."
But, she adds, building toilets is only the first – and perhaps the easiest – step towards attaining a "clean India" status. "It cannot be seen as the ultimate yardstick of success. What happens to the immense amounts of solid and liquid waste that these millions of new toilets would generate? If human excreta is not handled carefully – safely disposed of or reused – it will add to our health burden and negate all the work done to build the toilets."
A sea of sewage
The CSE-Down To Earth analysis gives a taste of exactly how monumental the problem would be: 1,00,000 tonne of excreta every day produced by 720 million people using 144 million household toilets – just to give a sense of scale, more than 5,200 trucks would be needed every day to transport this amount of excreta! CSE has based this estimate on the standard calculation that on an average, an individual produces 128 gram of excreta every day.
Says Sushmita Sengupta, programme manager, rural water-waste management, CSE: "This could turn out to be a far bigger problem than that of open defecation. If not managed properly, the mind-boggling amounts of waste that these toilets will spew forth close to people's homes can severely contaminate the land and water sources."
"It is clear that toilets must be built keeping in mind the safe disposal and reuse of waste. Without this, we will not get the benefits of safe sanitation – the reduction in disease burden because of safe disposal of human waste," Narain adds. "This is the challenge that we must keep our focus on."
What compounds the problem is the manner in which the entire process of making villages ODF has been carried out. The CSE-Down To Earth analysis notes major gaps in the process. To declare India's 0.6 million villages ODF, the Census 2011 involved 2.7 million officials, ostensibly working in collaboration with 3.6 million village residents. However, the rush to achieve targets has led to false claims. The analysis quotes the reports of the Comptroller and Auditor General of India on Gujarat and Uttarakhand, which have exposed cases of fudging of data.
For verification of the ODF process, the Union ministry of drinking water and sanitation recommends that concerned state officials/departments should be involved in the process for nine months. During this period, they would be expected to focus on things like availability of water, cleanliness of water sources and water bodies, decentralised waste management, maintenance of school and anganwadi toilets, etc. But the states have modified these guidelines (sanitation is a state subject) and have concentrated largely – and merely – on the construction of toilets, without paying much attention to the other aspects.
The CSE-Down To Earth analysis has found anomalies in the way the toilets have been constructed. Poorly designed and built, many of these toilets have added to the burden. For instance, in those built in flood-prone areas, the stored faeces pose a major pollution and health hazard during monsoons. The high density of pit latrines and poorly made and maintained septic tanks can render the shallow aquifer water unfit for drinking because of nitrate and bacterial contamination.
Says Narain: "Post-2019, the sanitation questions in India will be different, and yet the same. The challenge will remain: how to ensure that the toilets continue to be maintained and used and how to make sure that human excreta is safely handled. If this is not done, the massive investment of counting toilets could go waste – worse, governments would now believe that their task is done, and priorities will change. But the expected health outcome, which requires not just building and using toilets but ensuring that water is not contaminated, will not be realised. This clearly must be avoided at all costs. For the Indian toilet success to have a sustainable future, monitoring and public scrutiny must continue."