Global warming-induced sea level rise and changes in climatic conditions are posing a serious challenge to the attainment of sustainable development in coastal states in Nigeria, experts have submitted.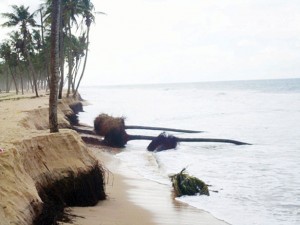 According to them, the devastating effects of recent extreme weather events (such as storm surges) on coastal cities and settlements in the states demonstrate their extreme vulnerability with a high potential to lead to social and economic crises in the region.
The observations were made in a Lagos by a gathering of scientists, administrators, civil society organisations (CSOs) and media practitioners at the Coastal States Climate Change Dialogue, organised by the United Nations Development Programme (UNDP) in conjunction with the Lagos State Government.
The states involved in the dialogue were: Lagos, Ogun, Ondo, Rivers, Bayelsa, Delta, Akwa-Ibom and Cross River.
In a communiqué released at the close of the two-day event, the participants noted that unplanned and poor land use, as well as rapid urbanisation are aggravating the impact of climate change on the coastal and marine environment of the affected states, and increasing their vulnerability in the security of water supplies, increasing risk to existing infrastructure, adverse health effects, and increasing threat to ecosystems and coastal development.
"The effects of climate change-induced sea level rise are transboundary in the nature and will affect the states in different but interlinked ways. It is, therefore, imperative for states to come together in forging a collective response to the crisis of climate change in the coastal region of Nigeria."
As a way out of the impasse, the forum recommended that the concerned eight states should immediately establish a functional network for the sharing of best practices about adaptation options for coastal zone management.
The states were likewise urged to undertake in-depth research to determine the vulnerability of their coastal and marine environment to anticipated global warming-induced sea level rise.
"States should adopt a regional approach to addressing the impact of climate change through a well-established regional cooperation mechanism. To do this effectively, each state should develop action-oriented mitigation and adaptation strategies and activities to address the challenges of sea level rise-induced flooding. State-specific strategies, derived from the relevant sections of the National Climate Change Policy and Response Strategy, should then be integrated into a regional strategy and action plan for a coordinated implementation."
The states were further advised to build their capacities so as to enable them have access to global multilateral and bilateral climate change funds that are critical to meet the huge financial resources required to adopt practical, but costly adaptation initiatives required to respond more effectively to the challenges of sea level rise and other extreme weather events-induced flooding in the coastal region of Nigeria.
It was also suggested that regional oceanographic and marine research institutions should be strengthened to undertake evidence-based research and early warning systems should be established to enhance the resilience of the people living in the affected zones.
Deputy Country Director, UNDP, Jan Thomas Hiemestra, stated that the dialogue is aimed at sensitising stakeholders in Nigeria's coastal areas as a proactive strategic preparedness action plan to forestall future negative consequences of abrupt sea level rise. The lessons learnt from the brainstorming, he added, are envisaged to become a model for other coastal preparedness action plan in Nigeria.
He said, "Although, the different states have been working to address climate change and their actions are taken in support of national governments reaching an international agreement on climate change and in support of implementing the practical actions needed to help to fulfill national and international commitments. But tackling the negative impact of climate change has its financial and environmental cost implications and because of the prohibitive cost of protection, many states might not be able to afford such measures. This is more so that there are many issues the nation has to tackle. The most probable and affordable approach is therefore through sensitisation dialogues on resilience building and vulnerability reduction that is dependent on collaboration amongst the states."
Lagos State Environment Commissioner, Tunji Bello, lamented that Lagos has in recent times suffered from ocean surge and consequently the degradation of beaches (Alpha and Kuramo) and loss of lives.
"It is against this background that the Lagos State Government has embarked on a number of projects aimed at building internal resilience to the vagaries of ocean surge and other climate change induced conditions," he said, listing some of such schemes to include the Bar Beach shoreline protection, Eko Atlantic City, dredging of canals, channelisation of drainages, aggressive enlightenment campaigns on the threat of climate change, and best waste management practices.