The Federal Government has alleged that pilots are refusing to obtain weather briefing from the Aeronautical Information Service (AIS).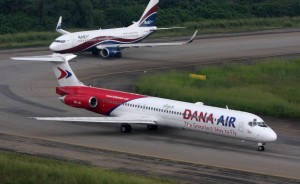 Joe Obi, the Aviation Minister's spokesman, submitted that, contrary to what is obtainable, only flight dispatchers receive weather briefing from the AIS, where pilots are supposed to (but have not) secure meteorological folders from. This accounts for why aircrafts take off and get to their destinations but are unable to land, he added.
Last week a passenger airline from Lagos was unable to land in Enugu after several attempts to land. Amid trepidation among the passengers, the pilot eventually aborted the flight and flew back to Lagos.
Obi said, "Henceforth, all airline operators and pilots are required to obtain and confirm their destination weather reports from the AIS before start-up and take-off according to international standard and best practices in order to prevent incidents of avoidable air returns due to unfavourable weather condition.
"This information, which is provided by NIMET and readily available at the AIS, is meant to guide pilots on destination weather and to assist them make informed decisions on whether or not to take off from one airport to another.
"There is therefore absolutely no reason and justification for an aircraft to make an air return on the basis of poor weather condition since initial weather report from the AIS would have been adequate to indicate the futility of an initial take-off under such harsh weather conditions.
"This recklessness on the part of airline operators and pilots will no longer be tolerated and infractions would be met with serious sanctions as this has the potential of compromising the safety of the nation's airspace."