Shell remains strongly committed to the development of Nigeria, Osagie Okunbor, Country Chair, Shell Companies in Nigeria said in Lagos, while announcing that The Shell Petroleum Development Company of Nigeria Ltd (SPDC) operated Joint Venture alone contributed $29 billion to the Nigerian purse between 2012 and 2016.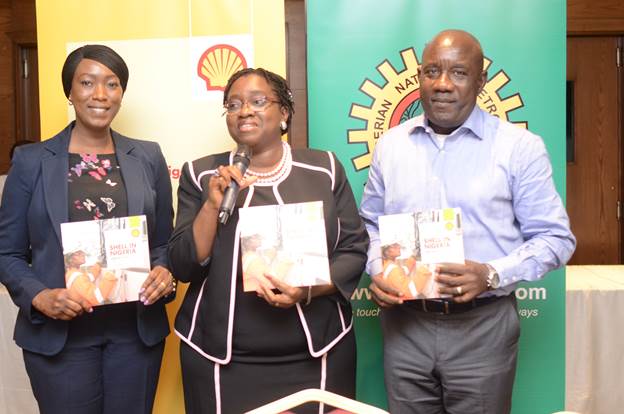 Also in 2016, the royalties and corporate taxes paid by Shell Companies in Nigeria to the Federal Government came to $1.4 billion (SPDC $1.0 billion and Shell Nigeria Exploration and Production Company (SNEPCo) $0.4 billion). This is besides the energy which Shell Companies contribute to the Nigerian economy, with Shell-operated ventures in Nigeria recording an output of some 572,000 barrels of oil equivalent per day in 2016.
Mr. Okunbor, who is also the Managing Director of SPDC, gave the statistics in a review of Shell operations in Nigeria for 2016 while presenting the 2017 Shell Nigeria Briefing Notes to energy editors.
"Shell has been operating in Nigeria for more than 50 years," he said. "And it is not by chance that we have remained deeply committed to the development of Nigeria, her people and her economy by efficiently and responsibly producing oil and gas in onshore and offshore as well as distributing gas to industries and producing liquefied natural gas for export."
Mr. Okunbor said the determination of Shell to support the monetisation of the nation's huge gas resources led it to establish Shell Nigeria Gas in 1998, which now supplies gas to about 90 industrial customers in Ogun, Rivers and Abia states. The gas is used for power generation and processing by industries for the manufacture of domestic products ranging from household consumables, to household utensils and hardware.
As they worked to produce energy, Shell Companies in Nigeria paid special attention to the welfare of host communities, making Nigeria the second largest recipient of social investment spending in the Shell Group after the United States. Areas of focus include community and enterprise development, education, health, access-to-energy and since 2016, road safety. This is in addition to community-driven development programmes and initiatives delivered through the Global Memorandum of Understanding (GMoU), which target themes as determined by benefiting communities.
In a bid to involve more Nigerian contractors in their operations, the Shell Contractor Funding initiative was expanded with eight participating banks committing about $2.2 billion to fund contract execution by Nigerian companies working for Shell Companies in Nigeria. Since the programme's creation in 2011, loans worth approximately $1 billion have been awarded to 220 small and medium-sized Nigerian enterprises with no recorded defaults on repayment. The Shell Contractor Fund was approved by the Organisation for Economic Cooperation and Development (OECD) at its plenary session on "Shared Value creation and local content" in December 2016 and included in the compendium of global best practices.
SNEPCo added to its efforts to improve the capability of Nigerian vendors and service providers in deep water operations by assigning significant portion of work to this category of contractors in its recently-concluded turnaround maintenance at Bonga field.
Mr. Okunbor also commented on crude theft and other security issues in Shell operations. Crude oil theft on SPDC's pipeline network resulted in a loss of about 5,660 barrels of oil a day (bbl/d) in 2016, which is less than the 25,000 bbl/d in 2015. The number of sabotage-related spills declined to 45 compared with 93 in 2015. He explained: "The reduction in oil theft and sabotage-related spills from the previous year can be attributed to continued improvements in air and ground surveillance and response by government security forces, lower production levels at SPDC JV operations in the Western part of the Niger Delta due to acts of sabotage and our divestment from key pipelines in 2015."
Mr. Okunbor added: "We continue to work with the government and other key stakeholders on the security challenges in our operating environment and look towards sustained and fruitful operations for the benefit of the Nigerian state and all other shareholders."
The main Shell companies in Nigeria are:
The Shell Petroleum Development Company of Nigeria Ltd (SPDC), operator of a Joint Venture involving NNPC, Shell, Total and Nigerian Agip Oil Company.
Shell Nigeria Exploration and Production Company Limited (SNEPCo), incorporated in 1993 to develop Nigeria's deep water oil and gas resources.
Shell Nigeria Gas Limited (SNG) was set up in 2008.
Shell also holds a 25.6% interest in the Nigeria Liquefied Natural Gas Company Limited.