State governors have been called upon to ban genetically modified organisms (GMOs) and effect a repeal of the National Biosafety Management Agency (NBMA) Act which came into force in 2015 and was reviewed in 2019.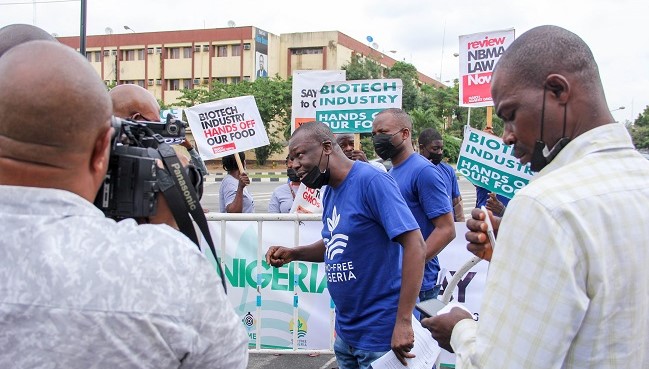 In a petition submitted to governors of no fewer than 10 states on Tuesday, April 27, 2021, a coalition led by the GMO-Free Nigeria Alliance and Health of Mother Earth Foundation (HOMEF) expressed concern over the fact that food and agricultural systems are being threatened by the unrestrained release of GMOs into the country.
The coalition comprises farmers, youths, women, scientists, medical practitioners, lawyers and civil society organisations, and the petition was submitted to governors of Enugu, Lagos, Edo, Rivers, Katsina, Kano, Bayelsa, Cross River and Benue states as well as the Federal Capital Territory (FCT) Administrator.
In Lagos, members of the coalition submitted the petition at the office of Governor Babajide Sanwo-Olu and were told to also drop a copy with the Commissioner for Agriculture, Ms. Abisola Olusanya. The petition is titled: "Urgent need to ban genetically modified crops IN Nigeria and to repeal the National Biosafety Management Agency Act."
GMOs are referred to as plants, animals or microorganisms in which the genetic material (DNA) has been altered in a way that does not occur naturally by mating and/or natural recombination. Foods produced from or using GM organisms are often referred to as GM foods.
"Nigerians are consuming foods bought from the market shelves without any idea that they are made from the genetically modified organisms (GMOs). The way these items are imported into the country calls for serious concern," said Philip Jakpor, speaking on behalf of the coalition.
"Another source of worry is the fact that the agency set up to regulate biosafety issues in the country is essentially a permitting agency, passing virtually every application that comes its way. Although the National Biosafety Management Agency (NBMA) has said illegal importation of GMOs into the country is being checked, these products are abundant in our market shelves as revealed by a survey which we carried out across major Nigerian cities between 2018 and 2020."
According to the group, the campaign against GMOs is particularly against genetic modification of food crops and animals and any other genetic modification that will alter ecosystem balance, negatively impact agriculture or destroy local economies and foods.
"Majority of Nigerians are not aware of these GMOs in our food system and the toxic chemicals that some of them are engineered to withstand while killing everything else. Many are not aware of their implications on human and environmental health and on the livelihood of small-scale farmers."
They continued in the petition: "Some GMOs are essentially pesticides while others are made to withstand the use of herbicides made by the same corporations producing the GM seeds. This has led to the development of super pests and super weeds. Thousands of lawsuits have been filed against the corporation, Bayer/Monsanto in the United States due to cancer cases that are linked with the use of the corporation's GMOs- associated glyphosate chemical and for failure of the corporation to warn the citizens of the associated risks.
"A popular example of such cases is that of Dewayne Johnson who was awarded $78million in damages to be paid by the corporation as ordered by the jury in 2018. This same glyphosate that is characterised as a carcinogen by the Cancer Research Arm of the World Health Organisation is replete in our markets in Nigeria and even endorsed with NAFDAC numbers.
"GMOs thrive in monocultures which has direct implications on nutritional diversity and indirect implications on climate resilience. This system of farming on which GMOs are based will lead to land grabs, impoverish small scale farmers-who produce bulk of the food we eat and concentrate power in the head of a few industrial farmers.
"The NBMA Act needs to be repealed as it is flawed with respect to the absence of provisions for strict liability and redress which mandates that the biotechnology corporations take responsibility for immediate and forthcoming negative impacts of use of their products as is the case in a similar Act in Uganda. Other areas of concern include lack of access to information, poor public consultation and participation, provisions for appeals and reviews, and lack of veritable provisions for the enforcement of the precautionary principle and decision making.
"The NBMA Act confers enormous discretionary powers on the agency and gives little room for oversight. The conflict of interest inherent in the NBMA Act equally raises serious red flags about the administration of biosafety in Nigeria. We have the National Biotechnology Development Agency (NABDA) sitting on the board of the NBMA. In 2016, two of the permits issued by NBMA to Monsanto Agriculture Nigeria Limited were applied for by the company for events that were to be implemented in partnership with NABDA. Imagine a developer/promoter of GMOs applying for a permit in partnership with a biotech company and sitting to approve the same permit. This is an obvious reason to worry about our biosafety regulatory architecture.
"The expansion of the Act to include definitions of evolving aspects of the applications of biotechnology such as gene drives, gene editing, and synthetic biology is a tremendously dangerous move that would compound the risks already posed by the application of the first-generation technology. Including these applications in the Act represents an opening of the country to the products of these dangerous and unproven technologies as have been demonstrated by the manner in which the agency grants approvals for importation and release of products of the first-generation GMOs.
"The use of gene drive organisms for example has the potential of wiping off whole species of organisms. Gene drives are a genetic engineering tool that aim to force artificial genetic changes through entire populations of animals, insects and plants and unlike previous genetically modified organisms (GMOs), these gene drive organisms (GDOs) are deliberately designed to spread genetic pollution through generations of species. We note that this poses a severe threat to biodiversity, ecological systems and environmental sustainability.
"Synthetic biology approach in genetic engineering involves the use of principles of Engineering, Molecular Biology, Physics, Chemistry and Computer Science to generate a new organism with traits which does not exist in nature. This would have tremendous implications for local economies and biodiversity. Natural products will be replaced with synthetic (unnatural) ones and markets will be concentrated in the hands of corporations thus increasing corporate control over the product processes.
Nigeria does not need GMOs. They are promoted on false premises. Research has shown that GMOs do not give higher yields and are not more nutritious than normal crops. They do not use less herbicides and pesticides. With the many problems we are contending with as a nation, GMOs should not be allowed to compound our situation. We must not accept a technology simply because it is available. We must as a people determine what is good for us.
"We should address the root causes of the challenges of food production including those of pest and disease. We should invest in in an agricultural system such as Agroecology which promotes soil health and biodiversity and ensures collaborative research and innovations with farmers with increased/sustained production of healthy and nutritious food. Farmers should be provided with needed infrastructure, extension service, access to land and credit schemes and good road-market networks."
Consequently, the coalition demanded:
A nullification of the permits issued to for the importation and release of genetically modified maize, beans, cotton into the country. These permits have been issued without regard for the complaints by millions of Nigerians and without the consent of many. Nigerians should not be used as pawns or as guinea pigs in furtherance of blatant commercial interests.
Close surveillance of our markets and farms to halt illegal entry of GMOs into Nigeria and into our food supply.
A ban of all toxic agrochemicals – especially glyphosate containing ones identified as probable carcinogens.
A halt to the assault on our agriculture through genetic modification of our staple crops including cassava. We urge that Nigeria should be circumspect about technologies that aim to contaminate our environment, destroy our agriculture, culture and rupture our socio-economic fabric and assert unbridled controls over our agriculture and foods.
The government should support Agroecology and provide the needed infrastructure, credit scheme and extension service to enable farmers produce food optimally