A non-governmental organisation (NGO), Climate Wednesday, has embraced sporting activities to raise awareness about the negative effects of plastic waste pollution.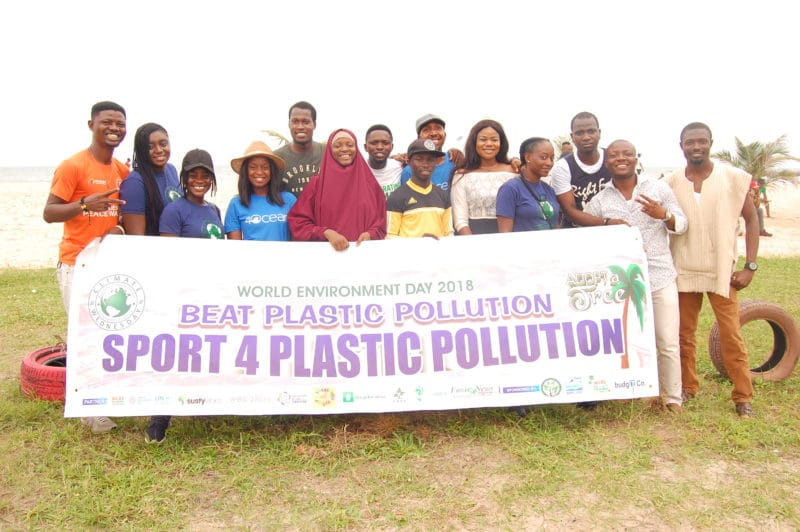 As part of activities to commemorate the 2018 World Environment Day (June 5) and World Oceans Day (June 8), Climate Wednesday and ICCDI hosted an event tagged: "Sport for Plastic Pollution" on Saturday, June 9, 2018 at the Kids Beach Gardens, Elegushi, Lagos. The event was in line with the United Nations theme for the World Environment Day: "Beat Plastic Pollution".
The event, according to the organisers, was aimed at using sports to promote awareness and action for the protection of the environment.
The event was attended by representatives of notable organisations such as Arctic Infrastructure, Climate and Sustainable Development Network of Nigeria (CSDevNet), EnviroNews, REES Africa, Fight Against Desert Encroachment (FADE Africa), Fabe International Foundation (FABE), Galaxy 4 Peace, One Voice Initiative for Women and Children Emancipation (OVIWCE), Swags News, Local Guides and Going Green Initiatives, as well as BudgIT.
Co-founder of Climate Wednesday, Olumide Idowu, in a welcome address, reiterated the need for concerted efforts to beat plastic pollution and how sport, which is universal, can be used to communicate with people to make wiser choices in order to ensure a safer, greener and healthier environment.
Director of Community Engagement, Babatunde Enitan, charged participants to take local actions to reduce plastic pollution and promote environmental sustainability.
Thereafter, representatives of each organisation present gave brief overview of what their organisation is doing to beat plastic pollution, as well as the impacts and future plans they are looking at to take action.
The activity of the day created awareness about the impacts of plastic pollution. The event fostered team work and collaborations as the only way to "Beat Plastic Pollution".
Each organisation also aims to show that sports can be a driving force towards reducing plastic pollution. The event also shed light on how the global sports community is coming together to raise awareness and inspire action on plastic pollution.
"Our sport activities were really engaging and representatives of each organisation and other individuals took part in games like volleyball and chess. Other activities of the day included general cleaning of the beach and adoption of trees in the Kids Beach Garden to beautify and preserve the environment," said Idowu, even as he gave the closing remarks and showered encomium on the management of the Kids Beach Garden, "for their great work and cooperation".
He also took time to specially thank all the organisations that supported and took part in the event.
Communications director, Adekoya Abiodun, gave the vote of thanks and implored participants to take the message of environmental sustainability and beating plastic pollution back to their various communities and other places they are associated with.
The World Environment Day event was supported by organisations like the Arctic Infrastructure, Climate and Sustainable Development Network of Nigeria (CSDevNet) and EnviroNews.