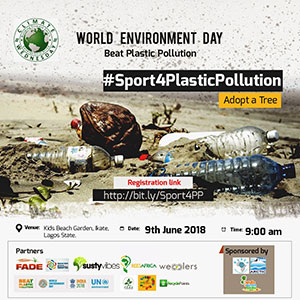 What is World Environmental Day being a global celebration of nature, a day to reconnect with the places that matter most to us.
A Platform for Action: World Environment Day is the UN's most important day for encouraging worldwide awareness and action for the protection of our environment. Since it began in 1974, it has grown to become a global platform for public outreach that is widely celebrated in over 100 countries.
The People's Day: Above all, World Environment Day is the "people's day" for doing something to take care of the Earth. That "something" can be focused locally, nationally or globally; it can be a solo action or involve a crowd. Everyone is free to choose.
The Theme: Each World Environment Day is organized around a theme that focuses attention on a particularly pressing environmental concern. The theme for 2018 is "Beating Plastic Pollution".
Plastic pollution has become an epidemic. Every year, we throw away enough plastic to circle the Earth four times. Much of that waste doesn't make it into a landfill, but instead ends up in our oceans, where it's responsible for killing one million seabirds and 100,000 marine mammals every year. For the good of the planet, it's time to rethink how we use plastic. This year, Climate Wednesday registered as International Climate Change Initiative Development will be commemorating this year's World Environment Day with an initiative tagged "#Sport4PlasticPollution"
#Sport4PlasticPollution: The "#Sport4PlasticPollution" capitalizes on the popularity of the sports industry. Individuals around the world have an up close and personal relationship with sports. Sporting activities require good weather conditions for trainings and events, to this end it is imperative that man's negative impact on the environment is minimized. Individuals, organizations and civil society groups around the world are organizing different events to create awareness about this year's theme "Beating Plastic Pollution" with the hope that this would spur governments, business leaders, and everyday global citizens to take action.
Sport is universal. So is Plastic Pollution. This is why Climate Wednesday is seeking support from organizations' and relevant stakeholders to execute the #Sport4PlasticPollution event. The event would showcase how sports can be a driving force in tacking plastic pollution
This year's activity on World Environment day with the theme "Beat Plastic Pollution" will involve the following activities:
Game/Sport on the beach (Teams from different Organization)
Adopting A Tree to conserve our beach.
Clean Up the beach.
Brief discussion about how we can reduce plastic pollution.
Why the concept #Sport4PlasticPollution?
To create awareness about the impacts of plastic pollution
To provide a playful and relaxed atmosphere where individuals can engage, discuss and share ideas on everyday actions that can help to reduce plastic pollution
The event would foster team work and collaborations as we can only "Beat Plastic Pollution" when we work together.
The event also aims to show that sports can be a driving force for reducing plastic pollution.
To see how individuals across Nigeria are standing up to beat plastic pollution.
To help discover how the global sports community is coming together to raise awareness and inspire action on Plastic Pollution.
Educating individuals to help promote and facilitate into committing themselves to the initiative.
#Sport4PlasticPollution is set to make a real, lasting difference.
Climate Wednesday – ICCDI can be contacted on Twitter via @ClimateWed