Fifteen gender champions have been trained to support women farmers in Ghana to mitigate climate risks and impact at a workshop organised in Kumasi.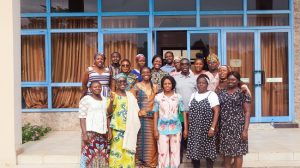 The training was organised by the Accelerating Impacts of CGIAR Climate Research for Africa (AICCRA), in partnership with Crops Research Institute of the Council for Scientific and Industrial Research (CSIR-CRI) and the University of Development Studies.
The champions comprised 13 officers of the Women in Agricultural Development (WIAD) directorate of the Ministry of Food and Agriculture, and two officers from the Widows and Orphans Movement, and Single Mothers Association.
Participants were from AICCRA's intervention districts in Greater Accra, Bono East, Central, Northern, Upper East and Upper West Regions of Ghana.
The objective of the workshop was to improve the officers' knowledge of gender-responsive Climate Smart Agriculture (CSA) and Climate Information Services (CIS).
The training on sustainable farm planning and costing, CSA, CIS and finance bundles and Neem Leaf Powder as a biopesticide emphasised opportunities for women to save money on farm inputs.
According to Faustina Obeng Adomaa, Gender Lead on the AICCRA project in Ghana, the workshop is to deepen AICCRA's collaboration with the officers in the scaling of gender and nutrition smart CSA-CIS bundles while working towards transformative change of norms that create and deepen inequalities in communities.
Gender transformative approaches highlighted innovative strategies for community dialogues and actions to change discriminatory gender norms.
Dr Joyce Haleegoah, Gender Lead at CSIR-Crops Research Institute, indicated that the workshop was an opportunity to refresh the minds of the WIAD officers on gender and related concepts, and deepen their understanding of the approaches to empower women to utilise Climate Smart Agriculture and Climate Information Services.
The participants were trained on topics including gender-responsive CSA-CIS bundles, Cowpea and OFSP as gender and nutrition-sensitive crops, Gender-responsive dissemination approaches, farm planning and costing, Village Savings and Loans Association (VSLA) for strategic farm investment, and preparation of neem leaf extract as bio control product.
"The women farmers who are disadvantaged in various ways will benefit from accessing the bundles and neem leaf powder because they will reduce their expenses," noted Mary Adogma, WIAD officer for Kassena Nankana district.
Other topics were identification of entrenched gender norms in communities and approaches to foster transformative change in gender norms.
Margaret Quarm, WIAD Officer at the Komenda Edina Eguafo Abirem district in the Central Region, said she has gained awareness of new approaches to garnering community support for women's issues.
"The learnings on gender transformative approaches has changed the way I will engage community and opinion leaders on issues concerning women," she said.
MoFA's Women in Agricultural Development Directorate was established purposely to transform livelihoods and promote the wellbeing of women in the agricultural sector. WIAD officers work with women farmers on food-based nutrition, value addition and food safety.
Single Mothers Association works to improve the livelihood of rural women through economic empowerment initiatives, while Women and Orphan's Movement supports women rights, education, capacity building and climate resilience.
By Kofi Adu Domfeh