Nigerian youth climate activist, Adenike Oladosu, has warned that the impact of climate change will not be limited to Africa alone.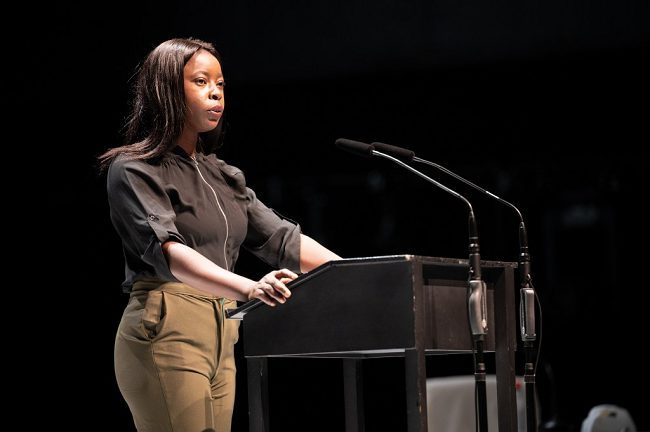 Despite contributing less to global carbon emissions, the African continent has continued to face extreme consequences of climate change while the world's largest emitters seem to look on.
"If Africa is not safe, definitely Europe is not safe, hence nowhere is safe until everywhere is safe. We are in a race against time and the time to act is now," Oladosu, also known as the EcoFeminist, gave this warning on Friday, October 1, 2021 while delivering the opening remarks during Ecocide – a performance Art theatre, which is an annual event organised by Schauspiel Stuttgart at Staatstheater Stuttgart, Germany.
In her presentation titled: "My first appearance on climate justice: a perspective from Africa", Adenike explained: "In Africa, climate change is no longer a threat but a reality. Invariably climate change is now a global reality. I'm not only worried about the future but the present because any action we take will bind us all. The hope therein is that the climate movement has the face of young people because the youth are tomorrow's adults. Remarkably, women and girls are at the forefront of the fight for climate justice.
"Not acting on climate change is a crime against our human rights because we can't have secured human rights if our environment is not safe for all. Also postponing climate action into the future is the most dangerous thing to do because for every degree of warming, there is always a greater or equal impact of climate change on humans and biodiversity.
"In a world impacted by climate change, how do you quarantine? How do we isolate ourselves from the impacts of climate change when floods have taken over our houses? Or drought has taken over our farmlands? We can no longer predict the rainfall pattern. This is not normal. It is not normal when we have to forcefully migrate. Neither is it rational if we can't recover greener. The disaster therein is that climate change is the only pandemic that has no vaccine."
Stressing the urgency for the international community to respond to climate change, she submitted: "By the end of this decade, we must either win or lose the race against climate change. The cost of acting now is far more important than the cost of acting late."
The Ecocide performance Art theatre sets a stage play in 2035 where it examines what leaders hope they would have done if only they knew that the climate crisis will get worse.
Oladosu is passionate about youth involvement in climate action through climate education and the importance of women's rights which she links with environmental rights.
She heads the "ILeadClimate" movement for peace, security and equality in Africa, particularly in the Lake Chad region where she advocates for the restoration of Lake Chad.
By 'Seyifunmi Adebote