The High-Level Climate Champions, Ms. Hakima El Haite, and Mr. Inia B. Seruiratu, Fijian Minister of Agriculture on Tuesday, September 18, 2017 launched the Climate Action Leadership Network at the Climate Week in New York.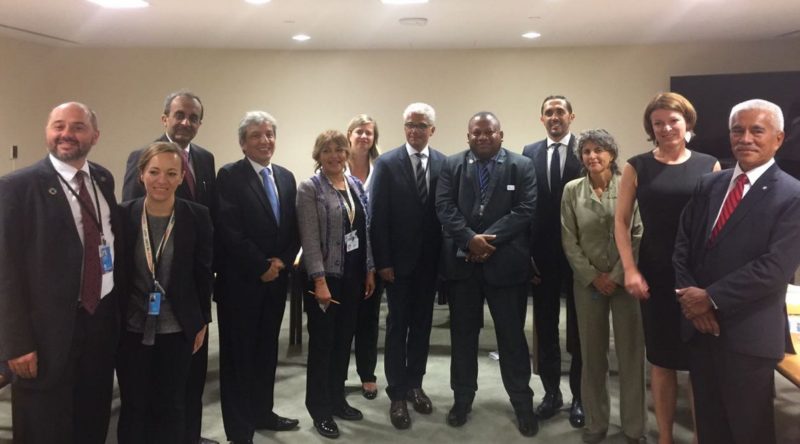 The vision is to bring together a high-level network of leaders to drive urgent climate action ahead of 2020, when national governments will meet to take stock of progress toward meeting the goal of the Paris Climate Change Agreement.
The launch coincided with the inaugural meeting of the Leadership Network, which convened at the United Nations Headquarters with the Executive Secretary of UN Climate Change, Patricia Espinosa.
During the meeting, the former President of Kiribati, Mr. Anote Tong, underscored the importance of broadening the leadership for Global Climate Action: "We need to go forward…there are different levels of challenges for countries regarding climate change; however, for the most vulnerable countries like mine, we don't have a future if we don't see immediate action. We need concrete solutions to guarantee our future."
It is expected that this network – the founding members of which are listed below – will support the Champions and the Marrakech Partnership for Global Climate Action to encourage governments to raise the ambition of their national climate pledges, in advance of when they are scheduled to take effect in 2020. To ensure representation from all sectors and geographies, membership will expand over time.
Founding members of the Climate Action Leadership Network:
Mr. Saad Abid, President, Bahri Association
Mr. Thani Ahmed Al Zeyoudi, Minister of Climate Change and Environment, UAE
Mr. Miguel Arias Cañete, European Commissioner for Climate Action and Energy, EU
Mr. Marcelo Mena Carrasco. Minister of Environment, Chile
Ms. Anne Hidalgo, Mayor of Paris and Chair of C40
Ms. Hindou Oumarou Ibrahim, Co-Chair, International Indigenous Peoples Forum on Climate Change to the UNFCCC
Ms. Jill Peeters, Founder of the Climate without Borders
Ms. Romina Picolotti, President of Centro de Derechos Humanos y Ambiente and Former Minister of Environment, Argentina
Mr. Paul Polman, CEO, Unilever
Mr. Manuel Pulgar Vidal, Leader of the Climate and Energy Practice of WWF International.
Mr. Erik Solheim, Executive Director of the UN Environment
Mr. Ashok-Alexander Sridharan, Mayor of Bonn and First Vice-President of ICLEI
Mr. Achim Steiner, UNDP Administrator
Mr. Anote Tong, Former President of Kiribati
The need for broader leadership for Global Climate Action (GCA) was highlighted during the Marrakech climate negotiations last year when it was acknowledged that the Champions and the UN Climate Secretariat could not achieve the aims of the Marrakech Partnership by 2020 by acting alone.To create effective connections with those actors already directly engaged in accelerating climate action, the Champions therefore decided to establish a Leadership Network, as a means of mobilising decision-makers and thought-leaders committed to delivering of immediate climate action.
The Marrakech Partnership for Global Climate Action supports implementation of the Paris Agreement by enabling collaboration between governments and non-Party stakeholders (i.e. cities, regions, businesses and investors). It is led by the High-Level Climate Champions and its mission is to strengthen and enhance action by these actors to immediately lower emissions and increase resilience against climate impacts. To maximise the convening power of the UNFCCC and connect local, national, regional and international actors to promote solutions, the Partnership has spurred a range of initiatives, including the establishment of the newly-launched Climate Action Leadership Network.