The Executive Board of the Clean Development Mechanism (CDM) in Bonn, Germany on Monday, February 20 2017 convened its first meeting in 2017.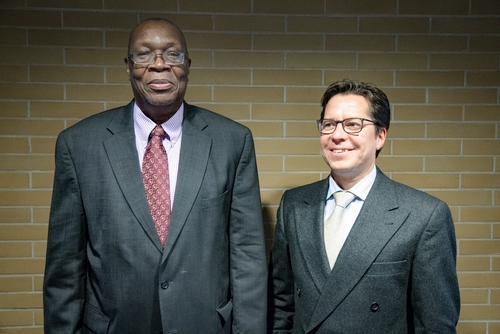 At the start of this 93rd meeting, the Executive Board elected Frank Wolke of Germany and Arthur Rolle of the Bahamas as Chair and Vice-Chair, respectively. Mr. Wolke and Mr. Rolle will serve until the first meeting of the Executive Board in 2018.
Mr. Wolke, who joined the Board in 2014, is Head of Section, Emissions Reduction Projects, Emissions Trading Authority at the German Federal Environment Agency.
Mr. Rolle, who joined the Board in 2015, is a Consultant at the Ministry of the Environment and Housing, and participates in the climate change negotiation process under the United Nations Framework Convention on Climate Change (UNFCCC).
The new Chair takes over from Mr. Eduardo Calvo. The new Vice-Chair takes over from Mr. Frank Wolke, who also served as Vice-Chair of the Board last year.
The CDM allows emission-reduction projects in developing countries to earn certified emission reduction (CER) credits, each equivalent to one tonne of CO2. These CERs can be traded and sold, and used by industrialised countries to a meet a part of their emission reduction targets under the Kyoto Protocol.
According to the UNFCCC, the mechanism stimulates sustainable development and emission reductions, while giving industrialised countries some flexibility in how they meet their emission reduction limitation targets.
But certain quarters have frowned at the initiative, claiming that it encourages industrialised to continue to pollute in the belief that they can "offset" such emissions elsewhere.
The CDM is said to be the main source of income for the UNFCCC Adaptation Fund, which was established to finance adaptation projects and programmes in developing country Parties to the Kyoto Protocol that are particularly vulnerable to the adverse effects of climate change. The Adaptation Fund is financed by a 2% levy on CERs issued by the CDM.