Lagos-based not-for-profit, Corporate Accountability and Public Participation Africa (CAPPA), on Tuesday, May 18, 2021 led a host of Nigerian climate change activists to speak-up against Shell's carbon emission plan termed "Net-Zero".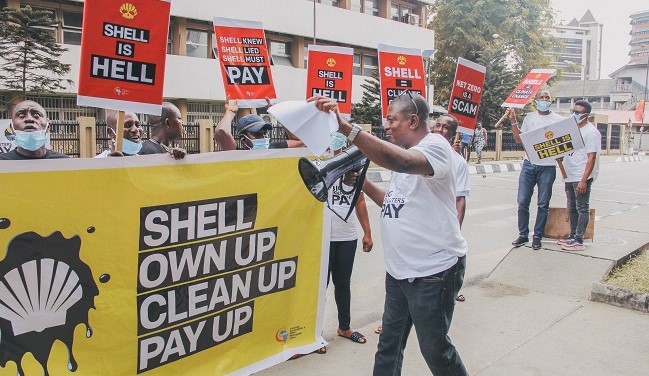 The group, in a peaceful protest, stormed the Shell headquarters in Lagos to register its displeasure with the oil giant's Net Zero plan that aims to end carbon emission by 2050.
The protesters, while demonstrating, asked the oil company to take real actions towards ending the climate crisis currently rocking the country and not wait until 2050.
CAPPA said the Net zero plan was another attempt to proffer a false solution to the climate problems in the country and the world at large, adding that Nigeria cannot afford to fall for the same tricks.
They demanded that the Nigerian government joined "the growing list of countries holding corporations like Shell accountable for their decades of deception and abuse".
Speaking during the protest Akinbode Oluwafemi, the executive director of CAPPA, faulted the date fixed by Shell to end flares globally.
Mr Oluwafemi asked African governments to hold Shell and other oil companies accountable and also demand real solution to emission reduction.
The CAPPA boss accused Shell of undermining climate policy despite knowing the harm caused by the burning of fossil fuels.
Also, CAPPA's Director of Programmes, Philip Jakpor, alleged that Shell was using the Net Zero pledge to greenwash business-as-usual as corporations scale-up fossil fuel extraction, burning and emissions continue.
On her part, the organisation's Associate Director, Aderonke Ige, also cautioned that Net Zero pledges would overwhelmingly rely on either emissions offsets or non-existent carbon capture technologies that are not viable and will not keep global temperature rise below 1.5 degrees.
On Tuesday, the International Energy Agency (IEA), the world's most influential energy institution, released its flagship report "Net Zero by 2050", which provides a comprehensive roadmap that outlines how countries can achieve an energy transition towards a 1.5 C degree pathway and in line with commitments contained in the Paris Agreement.
By Ayomide Emeka Joseph