The marketing and use of conventional plastic bags in Cape Verde are now banned by a law that came into effect on Sunday, January 1, 2017.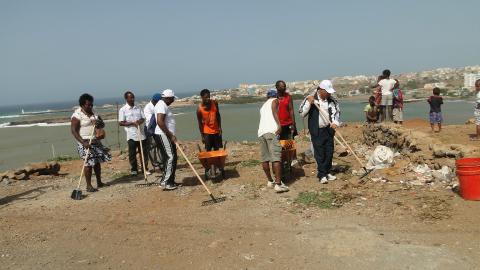 This is the culmination of a battle waged by the Association for Environmental Defense and Development (ADAD) within the framework of a programme named "Cabo Verde sans pratiques" (Cape Verde without Plastic) in partnership withMAVA and PRCM. The Association was supported in this cause by partners such as the Ministries in charge of Environment, Housing and Land Management and Tourism, Industry and Entrepreneurship Development, the network of parliamentarians for the Environment, the municipalities, and industrial manufacturers.
According to "PACO News", a publication of the Ouagadougou, Burkina Faso-based Central and West Africa Programme (PACO) of the International Union for Conservation of Nature (IUCN), the law will now make it possible to punish the economic agents that persist in the sale and use of these sachets.
The ADAD reportedly initiated the project in order to sensitise policy makers and citizens on a scourge that pollutes seas and small islands and causes damages in the cities with the engorgement of sewage sledges.
"The proliferation of this waste in the cities and seas has even prompted the Ministry for Environment to conduct a study that has revealed that plastic bags account for about 11% of the volume of solid waste in Cape Verde," states PACO News.
On 9th March, 2017 in Oyo, In a related development, the Republic of Congo's Ministers for Environment and those for Foreign Affairs on Thursday, March 9, 2017 in Oyo launched the "Blue Fund" for Congo Basin.
The launch held at the end of a ceremony chaired by the Head of State of Congo (Sassou Nguesso) who was assisted by his counterpart of Togo (Faure Gnassingbé). Former Heads of State such as Olusegun Obasanjo of Nigeria and Alpha Omar Konaré of Mali were also in attendance.
The Blue Fund is part of the blue economy and covers all water bodies (lakes, ponds, rivers, seas, ground water) and coastal areas. The main branches of the economic activity in Africa that are based on marine and aquatic resources are fisheries, aquaculture, tourism, transports, the port sector, the mining sector and the energy sector.
For this reason, the Blue Fund will play a key role in the promotion of the blue economy in the Congo Basin to achieve economic growth, sustainable development and the well-being of the people.