Globally, two million poor and marginalised women and girls suffer from Obstetric Fistula, a preventable and treatable condition as a result of hole or tear between the birth canal and the rectum or bladder that results in chronic incontinence and dangerous infections. It afflicts those who do not have access to good quality maternal health care.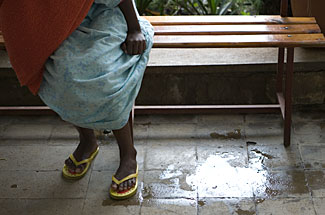 Added to the pain and suffering is the stigma and discrimination that surrounds Obstetric Fistula in many communities around the world because it is almost entirely a condition of the poorest, most vulnerable and most marginalised women and girls; sufferers of this condition often live with it for years because they cannot afford to get treatment.
The theme for this year's International Day to End Obstetric Fistula is: "End fistula within a generation". Celebration of the Day, the United Nations Secretary General, Ban Ki Moon, remarks: "The persistence of fistula in some countries and regions is an indicator of very poor access to quality maternal health services. To end it, we must strengthen health systems and address broader development and human rights issues affecting women and girls: poverty, gender inequality, early marriage, early childbearing, and lack of education. Fistula has virtually been eliminated in most high- and middle-income countries around the world, so we know that it can be eliminated in every country."
Executive Director of the United Nations Population Fund, UNFPA, Dr Babatunde Osotimehin, in his statement, acknowledges the need to accelerate efforts towards ending Obstetric Fistula.
His words: "For UNFPA, ending fistula remains one of our highest priorities, and we will continue to accelerate efforts, both in our own work and within the United Nations system. The global Campaign to End Fistula, launched in 2003 by UNFPA and partners, has made significant progress towards eliminating fistula and supporting its survivors through prevention, treatment, social reintegration and advocacy. UNFPA has supported more than 70,000 fistula repair surgeries for women and girls in need, and Campaign partners have enabled many more to receive treatment."
As the world takes action against polio, HIV/AIDS, female genital mutilation and several other forms of health issues, observers urge commitment to stepping up efforts to end fistula, once and for all.
This, they add, implies heeding the call of the 2030 Agenda for Sustainable Development to leave no one behind, especially those most neglected, invisible and powerless, including the women and girls living with fistula.
"Now is the time, and I am confident we can do it," adds Dr Osotimehin.
International Day to End Obstetric Fistula is celebrated on May 23rd every year. It aims to raise awareness about, generate new support for, and speed up efforts to end an injury that harms women physically, socially and economically.