"Plants are gone, and the aquatic environment is going off, the flora and fauna is actually going off too. The clean-up should start, not coming around to make announcement and make a minister to visit, that is not a clean-up. We have anticipated, we have hoped, but it is long over-due. Let the clean-up start, that is our prayer."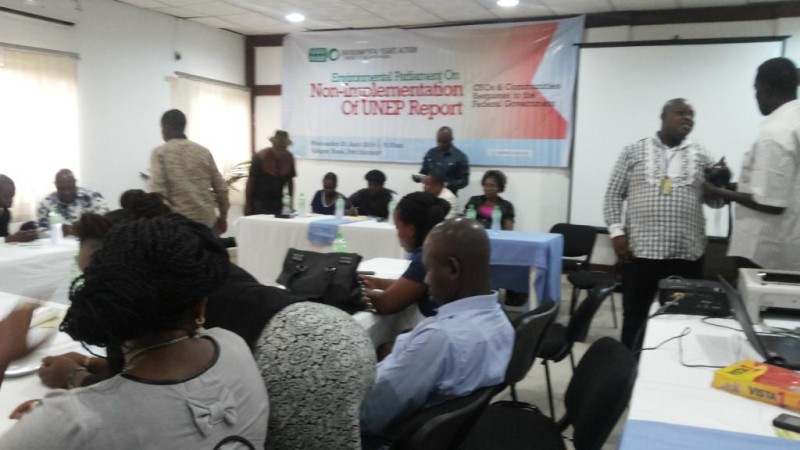 These were the words Mr Dum Syl Amainikpo an Ogoni activist, last week in Port Harcourt, River State during a daylong session involving the civil society and community leaders tagged: Environmental Parliament on Non-Implementation of UNEP Report and organised by the Environmental Rights Action/Friends of the Earth Nigeria (ERA/FoEN).
Dr Uyi Ojo, executive director of ERA/FoEN, said: "Based on the strong evidence contained in the 2011 UNEP report recommendations, there is monumental damage done to the environment this past 50 years. The plight of the Ogonis has worsened with monumental pollution of water sources with potentially carcinogenic substances and soil contamination up to the depth of five meters that has resulted in poor wealth conditions, lowering farm yields and fish catch depletion that have combined to make life more difficult for the Ogonis.
"The Ogoni environment has been ruined by the Shell Oil Company operations over the years and communities constitute sites of ecological crime against the people and their environment, is no longer news."
He faulted the Federal Government for not putting in place "the much-needed institutional frame work to drive the process nor has the proposed governing board been inaugurated". He expressed displeasure over the absence of "a realistic time table and dateline of commencement of Ogoni land."
Another Ogoni activist Young Kigbara when asked what his expectations were, said: "I suffered a lot and am still suffering. We have it on record that people are dying all over Ogoni consequent upon the fact that they have been affected by the pollutant and no one is talking it seriously." He expressed his doubt over the fact that the Federal Government has the political will to deliver the Ogoni clean-up project.
He added: "My understanding of political will means that if you say that you will do one thing, you will commit yourself completely to it and have it done."
Mr Kigbara said: "Almost a year now we have people in government who told us that we are going to do this in less than no time," but he regretted that "there hasn't been a match of that promise with action.
"So I want a situation where government will reason well and clean-up the environment so that I will live a better life," he said resignedly.
Dr Koba, another prominent Ogoni son, warned "that reforming Ogoni environment would not succeed unless they start the restoration of the mangroves".
An Ogoni woman Activist Martha Agbani, Executive Director of Lokiaka Development Centre, while speaking to EnviroNews, said: They are supposed to start with serious consultation with the people, it shouldn't be the kind of top of bottom approach."
She advocated for an all inclusive broad consultation. She also called for a review of the UNEP Report saying: "Review the report they have so released because it is about four years now that the report was released so there must be some gaps within what they already have from the species, from the ecosystem.
"They cannot do without working with people," she continued, advising that youths should be a strong focus of whatever they are doing. She also talked about the inclusion of women, saying: "We cannot talk about this without women. The Federal Government has not done anything."
By Dandy Mgbenwa