The Acting Director-General of Nigeria Hydrological Services Agency (NIHSA), Ahmed Mabudi, said the rumor making rounds about the release of water from the Lagdo Dam by Camaroonian authorities was untrue.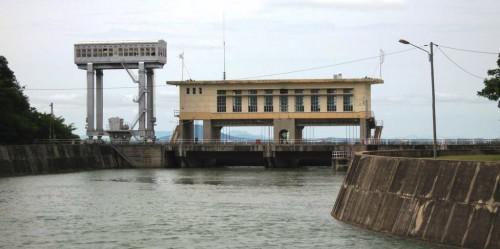 There have been reports circulating that people living along the water banks of the Rivers Niger and Benue should run for their lives with the release of water by the operators of Lagdo dam in Cameroon.
According to the report, the National Emergency Management Agency (NEMA) and the Nigerian Police are quoted as warning those living along the water banks to run for their lives "between now and Saturday'' or many houses will be over run.
Mabudi, however, told NAN on Sunday, September 16, 2018 in Abuja that the news was false.
"We've have spoken with the operator in charge of the dam in the Southern Cameroon region, Mr Abdullahi, and we are in constant discussion with him.
"There is a Memorandum of Understanding (MoU) between Nigeria and Cameroon that the Cameroonians must give us a long notice in the event that they want to release water from the dam, so we can take precautionary measures to contain any havoc as a result of the release.
"As at Tuesday when we spoke with Abdullahi, he said the water level at the dam was 12.1m, so it has to get to 12.6m before they start any release.
"So, when we alerted him about the stories making the rounds, he was shocked and refuted the claims.
"Yes, we know that there are rising water levels in Adamawa, Taraba and the Benue axis, but this is basically due to the torrential rain fall being currently experienced in the country," he said.
He urged people living in high level water areas to remain vigilant and calm, adding that the Minister of Water Resources, Suleiman Adams, as well as NIHSA, were in touch with operators of the Lagdo Dam.
As at Sunday, the water level in Lokoja is 11.2m as against 10.66 on Wednesday.