Global corporations have begun the transition to a low-carbon economy and some are already capitalising on the opportunities this affords, whilst a large number risk being left behind through lack of long-term planning and inertia, according to analysis released on Tuesday by CDP, the not-for-profit global environmental data platform.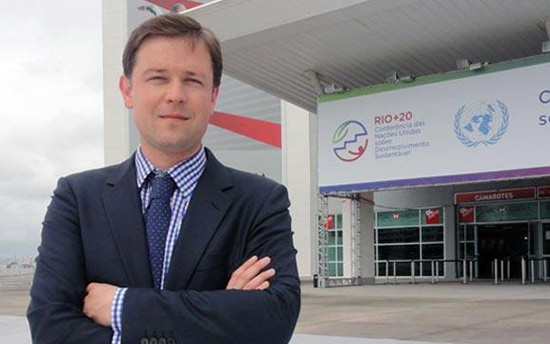 CDP's report, "Out of the starting blocks: Tracking progress on corporate climate action", produced in partnership with We Mean Business, presents carbon emissions and climate change mitigation data from 1,089 companies, disclosed to CDP at the request of 827 institutional investors with assets of $100 trillion. These companies – which represent some of the world's most significant in terms of market capitalisation and environmental impact – account for 12% of total global greenhouse gas emissions.
With entry into force of the Paris Agreement on climate change confirming the shift to a low-carbon economy, CDP will show how business action is stacking up against the world's new climate goals by tracking this group of companies in subsequent annual reports.
This year's report, which sets the baseline, shows that the low-carbon transition can bring high returns. Over a five-year period, 62 companies have succeeded in cutting their emissions by 10% or more while increasing their revenue by the same margin. Collectively, revenue has increased by 29% and emissions reduced by 26% amongst this group, while the rest of the companies in the sample saw a 6% decrease in revenue alongside a 6% rise in emissions.
The group includes:
Host Hotels & Resorts Inc. The US real estate company saw revenue growth of 22% over five years alongside a 23% drop in emissions, with overall emissions intensity falling by 37%. The company has a science based target in place to reduce its scope 1 and 2 emissions on an emissions-per-square-foot basis 28% by 2020 from a 2008 base-year;
SCA: The Swedish consumer goods company and pulp and paper manufacturer reduced its emissions by 32% while increasing revenue by 19%, achieving a 42% drop in emissions intensity. The company is reducing annual costs by €5 million thanks to a new biofuel-powered kiln at one of its mills;
Wipro: The Indian IT company saw growth of 15% over a five-year period alongside a 24% drop in emissions, with overall emissions intensity falling by 33%. The company has introduced new virtualisation technologies across its servers, resulting in huge annual energy savings.
Companies are one of the key actors in enabling the global economy to achieve its climate goals and the report reveals that 85% of businesses already have at least one target in place to reduce their greenhouse gas emissions. However, these targets are lacking in long-term ambition, with just 14% of companies having set goals for 2030 or beyond. Moreover, just a small proportion of companies in the sample (9%) have committed to aligning their targets with the latest climate science for a 2˚C pathway.
Achieving their current targets would take the companies in the sample one quarter of the way to the level that their emissions should drop to in order to be consistent with keeping global warming below 2 degrees.
CDP's chief executive officer, Paul Simpson, says: "This baseline-setting report uses data related to companies' activities pre-Paris Agreement; it shows that while many are already on the right path, there is still a large gap to close. With hundreds of companies already disclosing to CDP that they anticipate substantive changes to their business resulting from the Paris deal, we expect to see a shift to longer-term, more science-based targets in future years."
"As investors look to reduce risk by shifting investments to less carbon intensive infrastructure, the spotlight will shine more intensely on corporate actions. There is still all to play for in the race to seize the opportunities from this transition."
We Mean Business' chief executive officer, Nigel Topping, said: "We Mean Business is delighted to partner with CDP on this report, that sets the baseline for corporate action to combat climate change. We know that global business is instrumental in creating a below 2˚C world; this report shows that some companies are already reaping the business benefits of early action on climate.
"Future editions of this report will be the tool for the We Mean Business coalition to track how companies are capitalising on the low-carbon transition, and bringing the global economy ever closer to its climate goals."
Some of the largest companies in the world by market capitalisation are notably absent from the analysis, having declined to respond to CDP's investor-backed disclosure request. CDP will track a group of over 700 non-disclosing companies to monitor if they begin to engage with the process in future years and help investors assess their exposure to unrevealed risk. The three biggest companies by market capitalisation that failed to disclose this year are Berkshire Hathaway, Facebook and Amazon.
With the Financial Stability Board's Taskforce on Climate-related Financial Disclosures (TCFD) due to publish its recommendations for consultation later this year, pressure on companies to disclose how climate change is likely to impact their business is expected to grow.
Alongside the report, CDP launches its 2016 Climate A List which comprises those companies identified as A grade for their actions in the 2015 reporting year to mitigate climate change. Following an independent assessment against CDP's scoring methodology, 193 companies have made the list, which features brands from around the world such as Colgate Palmolive Company, Sony and Wipro.