President Muhammadu Buhari on Thursday, March 10, 2022 inaugurated N1.2 billion, 68 housing units at Issele-Azagba, Aniocha North Local Government Area of Delta State.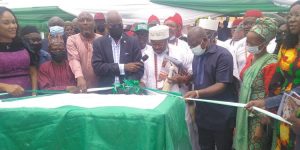 The President, represented by the Minister of Works and Housing, Mr Babatunde Fashola, said the housing project was under the National Housing Programme (NHP), Phase 1.
He said that the housing projects which the Federal Government had undertaken in phases since 2016 were examples of the fulfillment of promise of change made in 2015.
Buhari lauded the support of the state government, adding: "The Federal Government will continue to deepen its commitment in the sector to meet the housing needs of Nigerians.
"This is a good example of some of the developmental possibilities that inter-governmental collaboration can produce, and I am optimistic that with the provision of more land, federal government will do more," he said.
The president said that the project had engaged and empowered more Nigerians particularly the ordinary Nigerians.
"We certainly cannot meet every one of those Nigerians in person, but our economic policies and investments in infrastructure such as this National Housing Programme and others will reach and positively impact many of them.
"Our desire and commitment toward improving the human condition and our message of change, have another facet beyond jobs creation.
"It responds to those who have long aspired to own homes and that dream has come true with this project," Buhari said.
He said that the Federal Government would fulfill its promise to allot housing units to former Super Eagles players.
Buhari added that the players should come forward for their keys to their apartments in any state of their choice.
On his part, the Minister of Works and Housing, Mr Babatunde Fashola, represented by Mr Biodun Oki, Senior Special Assistant to the Minister, said the project consists of 68 housing units, with roads, electricity and water facilities.
Fashola said that the 68 houses comprise 28 units of two-bedroom bungalows, 16 units of three-bedroom bungalows and 24 units in condominium (four one-bedroom, 16 two-bedroom and 4 three-bedroom).
"We have offered all these housing units to members of the general public in a bond recriminatory way by opening the National Housing Portal to ensure that those interested are not inhibited by any artificial obstacles.
"Allocation will be made on the basis of those who apply and pay on a first come, first serve basis," Fashola said.
Gov. Ifeanyi Okowa of Delta, represented by the Commissioner for Housing, Mr Festus Ochonogor, called for more collaborations between government and private sectors in order to meet the housing needs of Nigerians.
Okowa lamented the shortage of houses for the people, particularly the rising demand in the state capital, Asaba, and other fast-growing cities like Warri, and Ughelli, among others.
Earlier in his opening address, Mr Chukwunwike Uzo, the acting Permanent Secretary, Federal Ministry of Works and Housing, represented by Mr Solomon Labafilo, director in the ministry, said the project had created both direct and indirect jobs for Nigerians.
Uzo said the housing projects had created over 14,500 and 50,140 direct and indirect jobs across the country.
Goodwill messages were delivered by the Asabgba of Asaba, Obi Chike Edozien and other dignitaries in appreciation for the laudable project.
By Ifeanyi Olannye