President Muhammadu Buhari says Nigeria remains proud of its former Minister of Agriculture, Dr. Akinwumi Adesina, for the winning the 2017 World Food Prize.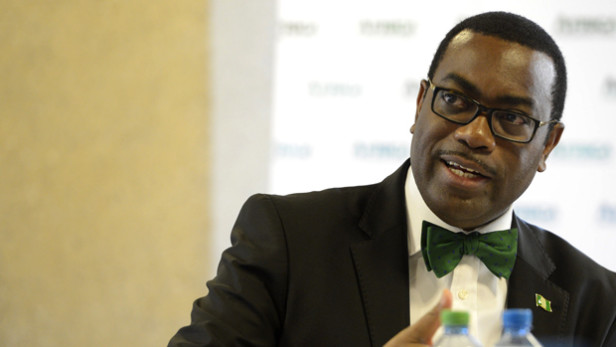 Adesina, who is the President of the African Development Bank (AfDB), was on Thursday, October 19, 2017 presented with the $250,000 prize and Laureate sculpture at a ceremony in the United States.
The President's Special Adviser on Media and Publicity, Mr Femi Adesina, said Buhari stated this in a video message to the AfDB President.
The presidential aide, in a statement issued in Abuja on Thursday, quoted President Buhari as saying: "I received with delight the cheery news of your award as 2017 World Food Prize Laureate.
"Certainly this did not come to me and many Nigerians as a surprise, given your antecedents and contributions to the development of agriculture across the African continent.
"We are very proud of you.
"According to the World Food Prize Foundation, you won the prize for driving change in African agriculture for over 25 years and improving food security for millions across the continent.
"Your choice as the winner of the World Food Prize is a clear recognition and appreciation of your long standing contributions, reflected in your several roles and activities which promote social economic development.
"By dint of hard work, persistence, diligent efforts and God's sufficient grace, you have risen above many limitations to emerge as a notable figure and a true champion.
"Your life story mirrors the resilience of the African spirit and doggedness for which Nigerians are well known.
"On behalf of the government and people of Nigeria, I congratulate you and rejoice with you, your family and the AfDB family on this well-deserved honour.
"Congratulations!''
Prior to serving as Nigerian Minister of Agriculture from 2010 to 2015, Adesina was a senior economist at West African Rice Development Association (WARDA) in Bouaké, Ivoary Coast, from 1990 to 1995.
Adesina was named Forbes African Man of the Year for his reform of Nigerian agriculture.
He introduced more transparency into the fertiliser supply chain through the popular E-Wallet system of fertilizer distribution in Nigeria.
The AfDB President had also worked at the Rockefeller Foundation as a senior scientist in 1988, and from 1999 to 2003, represented the Foundation in southern Africa.
The former Secretary-General of the United Nations, Ban Ki-moon, appointed Adesina as one of 17 global leaders to spearhead the defunct Millennium Development Goals.