SustyVibes has announced the commencement of the Bioverse NG Project, an initiative being implemented in collaboration with the German Embassy in Nigeria. According to SustyVibes, the collaboration aims to empower 200 young Nigerians with a profound understanding of biodiversity and its crucial role in fostering a sustainable planet.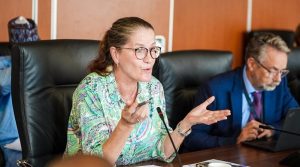 The project, it was gathered, represents a resolute commitment to understanding and appreciating the nation's rich biodiversity for its role in sustaining a thriving environment. The promoters, through the project, aim to educate participants about biodiversity and its vital role in maintaining a healthy and thriving planet.
The project will bring together stakeholders involved in the project, along with government representatives, for a comprehensive dialogue on climate change and biodiversity in Nigeria.
Jennifer Uchendu, head of SustyVibes, said: "The Bioverse NG project affords us a platform to rejuvenate youth participation and leadership on biodiversity and climate change dialogues in Nigeria. It's a project for young people by young people and has been designed to help us build and maintain the agency, optimism, and resilience we need in these times of polycrisis."
She added: "Presently, our planet is facing the largest loss of biodiversity since the industrial age, with approximately one million plant and animal species at risk of extinction. the United Nations Environment Programme (UNEP), has issued alarming reports on the dire consequences of this crisis, which affect millions of lives, particularly in vulnerable regions like Nigeria.
"Now more than ever, the issue of biodiversity needs to be brought to the forefront and tackled holistically. By emphasising the importance of knowledge dissemination as a crucial player in climate action, SustyVibes, with help from the German Embassy, is committed to realigning the discussion and actions around the environment to environmental conservation and empowering Nigerian youths through Climate and Biodiversity Education."
Annett Günther, German Ambassador to Nigeria, said: "The biodiversity crisis affects the climate crisis: changes in biodiversity, i.e., through changes in land use, deforestation, overexploitation of natural resources, and pollution, have a negative impact on the climate system. The Bioverse NG project allows us to establish cross-connections and synergies between climate and environmental protection, as well as nature conservation. Through the project, young people can learn and become multipliers in their communities. Germany is committed to working towards a sustainable and green future – this is a priority of our foreign policy."
The project will include a six-week virtual learning workshop that will provide young Nigerians with vast knowledge of the links between climate change and biodiversity while also representing input from persons living with disabilities, women, indigenous people, and local community members who are at the frontline of climate action and biodiversity protection.
Uchendu added: "Our project also brings in climate and biodiversity experts from reputable institutions to ensure participants receive practicable insights and learnings. The project will also host regional dialogues that enable participants to engage with key stakeholders in Nigeria's climate and biodiversity sector.
"In addition, this project will offer internship placements to the top three participants in the workshop, providing them with practical experience in climate action and biodiversity projects, and allowing them to contribute and learn from professionals in the field.
"Finally, the project will culminate in a national conference that would bring together stakeholders involved in the project, along with government representatives, for a comprehensive dialogue on climate change and biodiversity in Nigeria. The conference will also centre on the voices of young workshop participants, who will share their insights and perspectives, driving the narrative and shaping the future of environmental conservation in Nigeria."