Residents of Agoro Community in Ekeremor Local Government Area of Bayelsa State on Monday, June 18, 2018 berated what they consider a poor and slow response to an oil spill from Shell's oilfield in the area.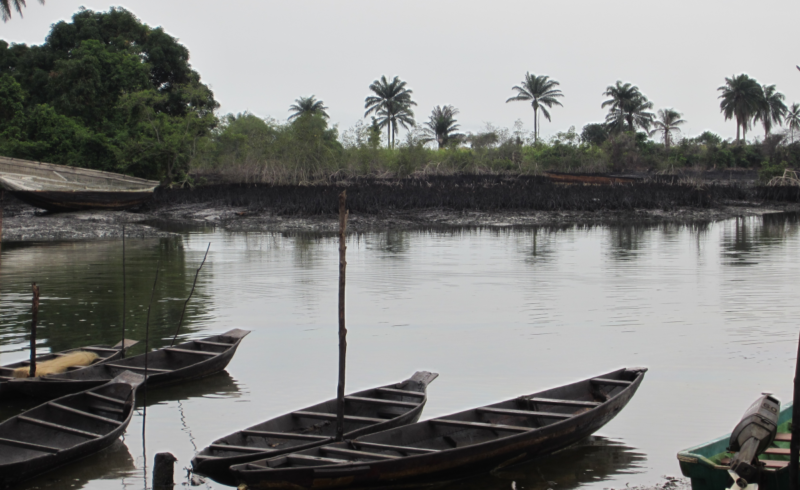 They appealed to the Federal and Bayelsa State governments to come to their aid over the spill incident and compel Shell Petroleum Development Company (SPDC) to be alive to its responsibility in spill response.
The community alleged that, several weeks after the spill that destroyed and polluted their farmlands and waterways early in May 2018, Shell had yet to commence clean-up in the impacted areas.
Secretary of Agoro Community Development Committee, Justin Gbagbiri, told the News Agency of Nigeria (NAN) in an interview that they were still counting the losses incurred as a result of the incident.
"The river supports our fishing vocation, and it is one of our major sources of drinking. If we want to cook we use water from the river.
"But since the crude oil polluted our river, we can no longer use water from the river anymore, we have been in distress.
"We cannot use it to bath anymore, just as we cannot use it to clean up after using the toilet.
"So, the spill has affected most of our activities here. Fishing which is our major occupation has been adversely affected, as we cannot go to the river again to fish as we used to.
"What the company has done so far is that they have come around to do some recovery of spilled crude oil but no other major thing has been done. They have not even sent us relief materials.
"What they said was that, it is when the ruptured spots have been brought out and cause of spill identified, they would know if Shell will take responsibility.
"Shell also said they would do the needful only if the cause of spill is identified as equipment failure and not third party interference.
"So, we are waiting for them to come and expose the pipe for observation but nothing has been done to that effect.'' he said.
The community alleged that SPDC is deliberately delaying the Joint Investigation (JIV) which would ascertain the cause of the oil leak.
Reacting to the development, Dr Alice Aje, Manager, Stakeholder Relations at SPDC, said the oil firm was responding to the spill incident and sought the understanding of the community.
"We regret the spill because it has adversely affected our operations and business, we have shut operations and stopped the spill and we are in talks with our relevant stakeholders.
"It is our responsibility to clean up the spill and if it was found to be case by equipment failure, we shall pay compensation to those affected, that is our process," Aje said.
She described the spill as "regrettable and unfortunate", adding that efforts were underway to convene a joint investigative visit with community representatives to probe the cause of the spill.