An international study has found extensive lead contamination around lead battery recycling plants in Nigeria and six other African countries.  The contamination levels in soil ranged up to 14% lead with average concentrations of 2% lead.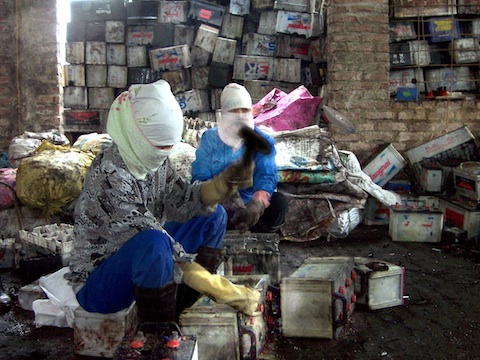 Lead battery recycling is a growing hazardous industry throughout Africa. In addition to vehicle applications, lead batteries are used to store solar and wind power, and are in demand for backup power for computers, cell phone towers, and home use. Lead pollution at these sites poses significant health risks to the public.
Titled: "Soil Contamination from Lead Battery Manufacturing and Recycling in Seven African Countries", the study is published in the journal Environmental Research. It tested areas surrounding 16 authorised industrial facilities in Cameroon, Ghana, Kenya, Mozambique, Nigeria, Tanzania, and Tunisia.
In Nigeria, the Lagos-based Sustainable Research and Action for Environmental Development (SRADev) Nigeria collected and analysed a total of 21 soil samples from lead battery recycling factory sites in Lagos and Ogun states. Samples were reportedly tested in EMSL Analytical Inc, USA. Lead levels around lead battery recycling plants in Nigeria ranged up to 29,000parts per million (ppm) outside the facilities tested and 140,000ppm inside the facility tested. Fifteen (71%) of the samples were greater than 400 ppm or the United States Environmental Protection Agency (USEPA) limit for soil. Levels below 80 ppm are considered safe for children.
"There are no industry specific regulations controlling the release of lead from these recycling plants or to protect workers and children in surrounding communities," said Leslie Adogame, Executive Director of SRADev Nigeria.
Few countries in Africa have adequate regulations governing the operations and emissions from lead battery recycling. Adogame added: "Lead battery manufacturing and recycling are extremely hazardous industries and companies should be required to publicly disclose their air emissions on an annual basis."
Victor Fabunmi, Programme Officer of SRADev Nigeria noted: "One of the facilities tested in Ota (Ogun State) is located within approximately 20 metres of a residential district with about 200 inhabitants. At another facility in Ogijo (Ogun State), waste water run-off from the factory is used to irrigate surrounding farmlands."
Perry Gottesfeld, Executive Director of Occupational Knowledge International, USA and the lead author of the study, said: "There is an immediate need to limit lead emissions from this industry and to test children's exposure levels in nearby communities." He added that many countries including Nigeria need to develop laboratory capacity to routinely test blood lead levels.
The authors of the study called on governments to ensure that plant operators set aside funds for facility closures to ensure that lead soil contamination is not left behind. One such site around a shuttered lead battery recycling plant in Mombasa, Kenya that has never been remediated is responsible for poisoning hundreds of nearby residents since the plant was closed in 2009, stated the authors.
The United Nations Environment Assembly (UNEA) adopted a resolution during its meeting in 2017 calling on governments to do more to control hazardous lead emissions from lead battery recycling.
Lead is easily melted down for reuse and therefore lead batteries are rarely discarded as waste. Recycling lead by melting down used batteries (also known as secondary smelting) is a profitable business throughout the world. Unfortunately, recycling lead from used batteries is known to result in high lead exposures that can cause severe health effects and contaminate the environment unless adequate equipment is used and procedures to minimize emissions are followed.
In many developing countries individuals working on the side of the road or in "backyard smelters" carry out lead battery recycling. Because of the primitive nature of these operations and their enormous number (estimated to be in the tens of thousands) the control of lead poisoning from the contamination of homes and the environment is a major challenge. In 2008 at least 18 children died and many more were poisoned from lead in Dakar, Senegal after exposure to contaminated dust and soil from the recycling of used lead batteries.
Large-scale recycling facilities are also known to be significant sources of lead exposure in many parts of the world. There are dozens of examples of informal and even large lead battery recycling plants that have been the source of lead poisoning among workers and local residents.