Governor Ben Ayade of Cross River State in South-South Nigeria has said that the time has come for Nigeria and other African countries to take full control of their natural resources, including forest reserves, and utilise them in a manner that drives development as well create wealth.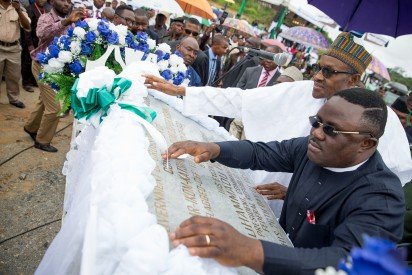 He made the submission Marrakech, Morocco on Tuesday, 17 November 2016 while fielding questions from media executives shortly after the Nigerian delegation to the UN climate change talks (COP22)  unveiled the country's plan of actions towards implementing the Paris Climate Agreement.
Ayade, who was defending the state's super highway project that has attracted local and international criticism, observed that environmental issues in Africa are politicised to the detriment of the continent's development, even while worse environmental abuses go on in other climes.
"We cannot continue to be poor, in the midst of the plenty that we have got. We drove in from Casablanca to Marrakech, to the left and right; where are the trees? When you go to Mexico, as you go to Mexico City to Tabasco, go from left to right, where are the trees? Nigeria can't continue to dramatise everything and convert everything to politics. The Super Highway only takes 85 metres with 35 metres and somebody goes to the press and says we are de-bushing 20 kilometres. It is most ungodly. Normally, this is a time that no state is doing any developmental project, so for me to develop a six-lane super highway on 35 meters' corridor across 261 kilometres, it calls for celebration not condemnation. It calls for appreciation and not cheap blackmail," he told local and foreign media at the African Pavilion of the COP22 arena in Marrakech.
The governor said he would go on with the project despite protests and widespread condemnation and by both local and international environmental activists, as well as pressures on the Nigerian government to stop the destruction of the country's remaining rain forest in cross River State, for the construction of a 260km super highway project.
Few days after President Mohammadu Buhari signed the Paris climate agreement while attending the United Nations General Assembly, over 253,000 signatures were reportedly collected from 185 affected forest dependent communities of Cross River State and the international communities to that effect which were presented to the president.
Ayade stressed that the super highway project is for developmental purpose and for wealth creation, for not only the state but also Nigeria at large. He assured that measures have been put in place to cushion the impact on the environment.
"The super highway that Cross River State intends to build from Calabar to Obudu is actually a super highway that focuses on the wellbeing of the people. There is nowhere on earth that you can stop development for environment. They must work together. I am a Professor of Environmental Science. By my background, my focus is the protection of the environment.
"The Super Highway has no intention; neither is it designed to negatively impact on the environment. It is only natural that, in the course of construction, some places with be de-bushed. And that is why there is an environmental management to tackle right of a comprehensive environmental management to mitigate the impact of the activity. The Cross River Super Highway is taking down less than 18,000 trees. Interestingly, the Cross River State has an aggressive plan to plant 500 million trees in this place and over a million have been planted already. So, an aggressive planting programme is ongoing".
"The wrong impression is that the state government intends to take 10 kilometres on both sides of the super highway, as government property. That is not the intention, but perhaps that is the wrong impression we are getting. The real truth is that once you are developing a six-lane highway; as it going on, you have slums just developing along the corridors".
"Our aggressive programme as government is that we are moving Cross River State from third world to first world in four years. So, by this super highway, I am taking the Atlantic coast closer to northern Nigeria, so that they can also have a direct access to the water front. And I think that Africa must come to terms with the reality. We might come here to Marrakech, and be like we were in Paris. By continuing to talk so much about the environment, but environmental issues are global and solutions are local.
"Cross River State remains the only state that has human rights law. Cross River State is the only state with Green Police, arresting and policing and prosecuting who are deforesting for sale. Cross River state is the only one with an aggressive tree planting programme with a green carnival, with everything to sustain the forest.
"How can a state that has 68 percent of the entire forest cover of Nigeria, how can a state that has a planting programme, how can a state that has a full Ministry of Climate Change, how can a state with a dedicated Urban Afforestation Programme, be so careless not to know that import of an EIA, as an environmental management tool, for the super highway? And I think what is happening has gone political. Unfortunately, that is the problem of Africa and Nigeria. The gospel truth is that is the only way that Nigeria can also get a second gateway into the country."
Cross River State also used the occasion to unveil plans to compensate the host communities.
By Innocent Onoh