As judicial activities resume on Monday, September 17, 2018 at the Federal High Court in Awka, the Anambra State capital, occupants and property face a critical exposure to subsidence as gully erosion continues to eat up part of the premises.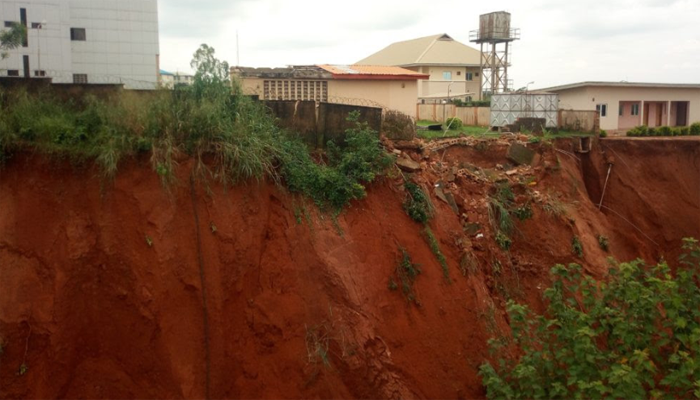 Already, the perimeter fencing on one part of the premises, the generator house and borehole facility have collapsed into the gully erosion.
The ravaging erosion had already cut off access to the Judges quarters, its Boys Quarter and the adjoining buildings including the abandoned Anambra Government House project.
Some members of judicial staff who pleaded anonymity feared that the court would not be conducive for judicial activities when the courts resumes on Monday.
They said the surge in human population would make the effect of the disaster to be increasingly felt as the structure would come under more pressure.
According to the staff, the entrance into the court premises may collapse as erosion had crept to the gate.
They wonder why no respite had come their way despite their outcry and media reports.
"Nothing has happened up till now, rather more of the fence is falling and that has increased the speed of the erosion, the existence of the main building is seriously threatened now.
"Court will resume on Monday and that means more people and vehicle will be coming in, the erosion is almost at the gate and soon the entrance will be cut off.
"As it is now, we do not have water, so I wonder how the Judges, the staff, litigants and their counsels will work effectively.
"No part of the complex is safe now because they already had visible cracks due to underground vibrations; we need immediate assistance because we cannot afford to lose this building to erosion," one of the sources said.
When contacted, Mr Emeka Achebe, Head of Communications in NEWMAP in Anambra State, urged calm as efforts were on to address the challenge.
Achebe said NEWMAP had already approved a special intervention plan known as "Gully Rapid Action and Slope Stabilisation (GRASS)" for the site and would be activated soon.
"GRASS will control damage and immediate threat to houses and other critical infrastructure.
"We urge them to remain calm, in no distant time, activities will commence at the site," he said.
Mrs May Esealuka, the Deputy Chief Registrar of the Court, had lamented the looming disaster, saying efforts to get intervention had failed.
"We have sent letters to the Anambra State Government in November last year and all the people and agencies that matter in Anambra, including NEWMAP came and saw things for themselves.
"What is happening here is sad, every moment my heart jumps that the worst will happen; there is no road to the Judges Quarters anymore," she said.