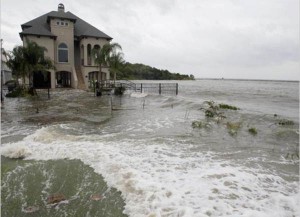 In the last few weeks, global attention has been drawn to the United Kingdom where the wettest winter in 250 years has emptied more than an ankle deep of flood onto the streets of the City of London and other parts of the Kingdom. The phenomenon, which the Government is still battling to contain, has flooded over 300 properties along the banks of River Thames with a total of 2,500 others remaining at risk. As at Wednesday last week, fourteen severe flood warnings remained in place along a ten-mile stretch of the Thames with some parts of the River a few miles upstream from London including Datchet and Wraysbury, under threat. Also in Surrey, 470 roads were reportedly flooded with 2,500 houses at risk.
But for Londoners, it is not what has already happened that is worrisome but the threat of what the weather still holds in stock. Although the Mayor of the City of London, Boris Johnson, has assured them that Government was prepared for the flooding, he still told LBC radio last week, "I would say to people, looking at the weather, looking at the rainfall over the next few days, it is pretty clear this problem is not going soon". This view was, indeed, corroborated by London's Environment Agency Risk Manager, Ian Tomes, who also told LBC radio, "Looking at the forecast for the rest of this week, the end is not yet in sight".  Scary, one must say. But City Hall sources still maintained that there was unlikely to be any need to evacuate Londoners from their homes or businesses although there was on-going concern about high river levels and saturated ground across the capital when more bad weather is on the way.
What has all these got to do with us here in Nigeria and Lagos, thousands of kilometres away from the adverse weather, one may well ask. First and foremost, it is clear to us today that what obtains in those faraway places – London, America, China, India, Pakistan and so on – is also realistic here. We are all joined at the hips, so to say, by the air, land and sea. If the air is polluted anywhere in the world, chances are that we might be affected mildly or severely depending on the intervening variables such as vegetation and their capacity to cleanse the atmosphere before the air gets here. If the water level rises, chances are that our rivers will also rise and may overflow their banks causing flood whose severity will also depend on the volume of water distributed.
One thing that the administration of Mr. Babatunde Fashola (SAN) has done consistently since inception has been to bring to the consciousness of Lagosians the fact that the State is one of the coastal states in the country and as such is prone to flooding any time it rains. They are also told that they can minimize the effect of flooding by keeping the various drainage channels, both natural and man-made, free from   refuse and objects that could block them and obstruct the free flow of water. The Government has since also gone beyond this to provide temporary shelter for victims of the  inevitable phenomenon aside spending huge amounts each year on public enlightenment to continually educate residents, especially the most vulnerable, on immediate steps to take in the incident of flooding before help arrives.
Overall, however, one could still say that Lagos has been lucky. Apart from the numerous natural flood channels and drainages in form of Lagoons, canals and wetlands, subsequent Governments over the years have constructed drainages, channels and canals across the State with each government improving upon what its predecessor has done.  The present administration, for example, aside from expanding the responsibilities of the Ministry of Environment, has between 2007 to 2013, constructed over 133 concrete secondary water collector drainage systems, representing over 60 percent of new concrete storm water secondary collector drainage infrastructure, across the State. Also, over 54 storm water drainage earth channels, amounting to 118 kilometres, were dredged while no less than 550 storm water drainage channels, amounting to about 440 kilometres, were de-silted. Within the same period, hundreds of canals and other water channels have been constructed or reconstructed to complete the network of drainage systems that ensure that water disappears from flooded areas each time it rains.
Arranged into systems numbering 1 to 6 for the purpose of monitoring and maintenance by the State Ministry of Environment, the network of drainages and flood channels ensure that flood water drains away within 48 hours at most after the rains in any part of the city. System 1, otherwise known as Odo-Iya-Alaro Channel, runs from behind Cadbury in Agidingbi through Awolowo Way, Oregun Link Bridge, Third Mainland Bridge and empties into Agboyi Creek by Ogudu foreshore. Served by eight tributaries, the system de-floods Agidingbi, Oregun and environs, Mobolaji Bank-Anthony Way, Awolowo Way, Ikeja, Allen, Opebi, Ilupeju, Ojota, Maryland, Anthony, Mende, Bariga and Pedro, among other areas. System 2, called Shomolu Channel, runs from Apata Street through Anifowose Street, Balogun Street, Abiodun Street, Bajulaiye Road, Adetayo Osho Street, UNILAG Road and empties into the lagoon. With two tributaries, this system de-floods Shomolu, Bariga, Ilaje, parts of Pedro, Akoka and the University of Lagos. System 3 has three tributaries, Oyediran Estate Canal, which runs from Sabo, through Oyediran Estate, Makoko and empties into the lagoon, Iwaya/Makoko Canal which runs through Iwaya, Dacosta, Makoko and empties into the Iwaya Canal and Iwaya Canal which empties into the lagoon. This System defloods Makoko, Oyediran Estate, Iwaya, Sabo, Alagomeji and Birrel Street area of Yaba. System 4 begins from NTA 7 and runs through Stadium, Western Avenue, Bode Thomas, Breweries, National Theatre and empties into Otto Creek. With two tributaries, Murtala Mohammed-Railway Compound-Mainland Channel and Ojo Oniyun-Olaleye Village-Main Channel, the System defloods Tejuosho, Yaba, part of Ebute-Metta, Stadium area, Bode Thomas and part of Iganmu Industrial Estate.
Yaba, Surulere, Ojuelegba, Aguda, Ikate, Coker Village, Iganmu, Orile, Badiya, Amukoko Ajegule and part of Apapa are de-flooded by System 5 whose main channel runs from City Way through Nathan/Obafemi Street, Tejuosho Road, Barracks, Allen/Gbaja, Akerele Street, Alhaji Masha, Babs Animashaun, Coker Village, Lagos-Badagry Expressway, Orile Iganmu Road, Obalende Road, Gaskiya College Road, Mobil Road, Apapa- Oshodi Expressway by Tincan and empties into Port Novo Creek. It has two tributaries; West Surulere Twin Channel which is divided into two parts, one starting from Bello/Ishaga Road and running through Itire/Lawanson Road/Answar Ur deen Primary School, Akerele and emptying into Main Channel at the back of Surulere Local Government Council Secretariat and the other starting from Itire/Lawanson Road and running through Owolewa, Randle Avenue to the First tributary. The second tributary; Aguda/Ikate Channel, starts from Oshogbo Street and runs through Adetola/Agbebi, Sanya and empties into Mai Channel via Coker.
System 6 has A-F segments with a total of nine channels which deflood over 14 communities comprising Yaba, Surulere, Ojuelegba, Aguda, Coker Village, Iganmu, Orile Badiya, Amukoko, Ajegunle and parts of Apapa, Apapa/Oshodi Expressway by Julius Berger Yard, GRA Ikeja, Air force Base, part of Oshodi Shogunle, Mafoluku, Apaku, Army Resettlement Centre, Ilupeju and part of Ikeja military base, Challenge, Mushin, Ladipo and part of Oshodi Expressway among others. Evidence of their existence and workability is manifested in the fact that every time it rains, the flood disappears within a few hours. The 16-hour rain of July 10, 2011 is one such example. Even with the volume and extensive damage it caused while still falling, the flood disappeared within 48 hours. And as earlier said, Government spends millions of Naira on advocacy, enlightening the populace through jingles and announcements on radio and television about areas susceptible to flooding and pre-emptive actions residents of those areas should take to mitigate the effect of flooding. Before the flooding of Sunday, July 10 2011, there was such announcement on radio and television warning residents of areas like Ketu, Mile 12, Agiliti, Thomas Laniyan Estate, Owode-Onirin, Agboye, Owode-Elede, Maidan and Isheri North Scheme, to move to higher grounds during the months of June, mid-September, October 2011 and January 2012.
Now back to the United Kingdom example. It does seem, from all indications that in spite of their years of experience, the government of Great Britain was ill prepared for the kind of flood that came as a result of the rains. It also appears that in the last two centuries, subsequent administrations have not seen the need to improve on whatever infrastructure that exists for the purpose of containing the overflow of the Thames. Well, whatever be the case, the truth remains that Lagos appears to be better prepared to contain flooding as a result of overflow of any body of water around it. While the United Kingdom authorities are still contemplating building an embankment to contain any future overflow of the Thames, Lagos has built an embankment to contain the overflow of the Atlantic Ocean in Victoria Island. The State is even developing a new city on a 5,000 metre land space reclaimed from the Ocean as a further insurance against future flooding from that body of water.
However, the lessons learn from the UK experience appear twofold. One is that no amount of preparations can actually prevent flooding, especially in coastal areas where the land is sometimes several inches below sea level. The flooding of the City of London and other parts of the UK was not as a result of lack of preparations by the relevant authorities. The Mayor of London himself confirmed this. Rather the lesson to learn is the relevance of adequate information and data concerning the weather at any point in time. Londoners were obviously taken unawares this time probably as a result of insufficient information concerning the severity of the weather. But from that point, the authorities ensured that residents got the true information about the weather in order to prepare their minds for the future.
Secondly, even as it is happening in UK, we in Nigerian should be preparing ourselves for the coming Rainy Season bearing in mind that what is happening in those "faraway" places may happen here with even worse impact. The network of flood water channels are there to take away the body of water that will constitute flood after the rains, But residents must ensure that this network is kept clear. This is the work they must do as we await the coming of the gathering storm.
By Mac Durubgo, Personal Assistant on Print Media to the Governor of Lagos State