The Chairman, Traders Association, Gwagwalada Area Council, FCT, Mr Ifeanyi Ikpacha, has called on traders in the market to guard against indiscriminate dumping of waste in the area.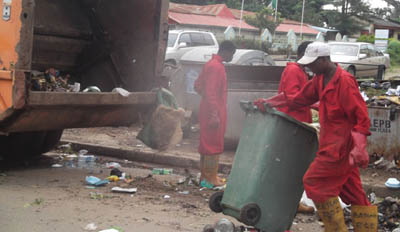 Ikpacha made the call in an interview with the News Agency of Nigeria (NAN) in Gwagwalada, FCT, on Tuesday, May 15, 2018.
He said the advice became necessary considering the harmful effects of refuse to health as well as ensuring environmental cleanliness and the well-being of the people.
He said dumping of refuse in the market and other places indiscriminately could be a breeding ground for mosquitoes and rodents which would lead to communicable diseases.
"I want to use this medium to appeal to the traders in the market and the general public to avoid indiscriminate dumping of refuse in the drains and along the roads.
"The association has also been sensitising the traders and residents on the dangers of indiscriminate disposal of refuse.
"We tell them to make the unkempt shops and environment clean in enhancing environmental cleanliness and promote a healthy living.
"Residents should try as much as possible to keep their environment clean; it is the responsibility of everybody to complement government's efforts in this regard.''
The chairman advised traders to always keep their dustbins tight and cover them at all times as debris from uncovered dustbins might drop into the gutters.
He also urged the traders to clean the gutters and canals in their immediate environment for the sake of their health and the health of the nation.
"The sensitisation is also to help the traders take a proactive step to curtail unhealthy habits.
"They should consider its health implications on human lives and also know that indiscriminate dumping of refuse can increase flooding in the city as well,'' he said.
He, however, warned the traders to always dispose their wastes in designated places for easy evacuation by cleaning contractors.
By Gami Tadanyigbe