Water experts agree that "21st century water challenges" especially that of meeting the increasing global demand for water due to population growth, can be addressed through nature based solutions (NBS). These solutions include the proper management and protection of freshwater ecosystems such as wetlands, floodplains and forests around the heads of rivers. The solutions are inspired
and supported by nature, and use natural processes to contribute to improved management of water.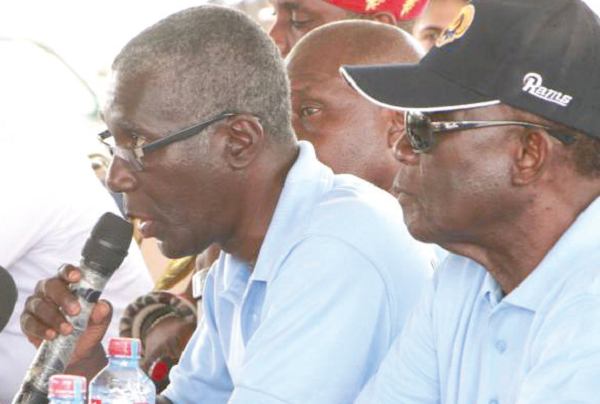 Once they are healthy, these ecosystems can effectively perform their natural functions of re-charging surface and underground water reserves that contribute to the sustainable availability of water. They further play important roles in regulating water quality
by reducing sediment loadings, capturing and retaining pollutants, and recycling nutrients.
However, some experts argue that the full and significant potential of nature based solutions have not been up-scaled in Ghana, because of the existence of certain multi-sectorial challenges. They include apathy against nature based solutions due to the continuing overwhelming dominance of built infrastructure solutions in the current instruments – from public policy to building codes and regulations.
"This dominance," according to the Executive Secretary of the Ghana Water Resources Commission (WRC), Ben Yaw Ampomah, "also exists in engineering, market-based economic instruments, the expertise of service providers, and consequentially in the minds of policy makers and the general public. Consequently, nature based solutions are ignored."
He added: "These and other factors collectively result in nature based solutions often being perceived to be less efficient, or riskier, than built or grey systems."
Mr. Ampomah was speaking on the subject "Nature for Water," at a media interaction in Accra organised by the Planning Committee for World Water Day celebration in Ghana as part of national activities to commemorate the Day.
World Water Day, which is celebrated annually on March 22, was instituted in 1992 by the United Nations, to draw global attention to the importance of water as a vital resource to life. Each annual event highlights a specific aspect of freshwater. The focus for this year's celebration has been on the potential of nature based solutions to resolve 21st century water challenges.
The WRC Executive Secretary noted that nature based solutions often require cooperation among multiple institutions and stakeholders saying "this is something that can be difficult to achieve as current institutional arrangements did not
evolve with in-cooperation on nature based solutions in mind."
He said "there is a lack of awareness, communication and knowledge at all levels, from communities to planners and national policy makers, of what nature based solutions can really offer," adding that "this situation can be compounded by a lack of understanding of how to integrate green and built infrastructure at scale, and an overall lack of capacity to implement nature based solution in the context of water."
And the fact is that myths and uncertainties remain about the functioning of natural or green infrastructure, and about what ecosystem services mean in practical terms. It is for this reason that people see wetlands as breeding merely grounds for mosquitoes or waste places that eventually become receptacles for rubbish and is often reclaimed for other land uses particularly buildings.
Besides, it is also not entirely clear, at times, what constitutes a nature based solution, while the hydrological functions of natural ecosystems, like wetlands and floodplains, are much less understood than those provided by built infrastructure. Consequently, nature based solutions are even more neglected in policy appraisal and in natural resource and development planning and management.
These challenges could be addressed by essentially creating enabling conditions for nature based solutions to be considered equitably alongside other options for water resources management. Mr. Ampomah called for leveraging of finances for nature based solutions by redirecting and making more effective use of existing financing. While, the private sector can also be further stimulated and guided to advance nature based solutions in the areas in which it operates.
Addressing the challenges further calls for creating an enabling regulatory and legal environment by promoting nature based solutions more effectively through existing frameworks. At the international level, global instruments including the Convention on Biological Diversity, the United Nations Framework Convention on Climate Change, the Ramsar Convention on Wetlands, the Sendai Framework on Disaster Risk Reduction, and the Paris Agreement
on Climate Change, all offer a means to explore nature based solutions for water availability and security.
The Sustainable Development Goals (SDGs), also provide an overarching framework for promoting nature based solutions. Mr. Ampomah said in the SDGs, nature based solutions offer high potential to contribute to the achievement of most of the targets of SDG 6 on water. He also mentioned other areas where the co-benefits of nature based solutions deliver particularly high rewards in terms of achieving the SDGs. They include agriculture; energy; inclusive and sustainable economic growth; full and productive employment and decent work for all. Others are making cities and human settlements inclusive, safe, resilient and sustainable; ensuring sustainable consumption and production patterns; and combating climate change and its impacts.
Mr. Ampomah concluded that "without a more rapid uptake of nature based solutions, water security will continue to decline, and probably rapidly so."
The Vice Chairman of CONIWAS, Atta Arhin, used the occasion to educate the media on the general water and sanitation situation in Ghana in relation to SDG 6 on water. He said water and sanitation have always formed a major component of the nation's development strategies such as the Ghana Poverty Reduction Strategy 1 & 2, Ghana Shared Growth and Development Agenda 1 & 2, and Agenda for Jobs (2917-014).
He said access to access to safe water, improved sanitation and hygiene services are fundamental to improved health particularly maternal and child health, quality education, gender equality, poverty reduction and socio-economic development.
Mr. Arhin, who is also the Coordinator of Water, Sanitation and Hygiene (WASH) at World Vision International Ghana, explained that targets SDG 6 indicate that everybody should have equal access to safe water, which should be affordable and easily accessible.  He said in Ghana challenges to attaining this target include poor water quality, poor water handling practices, difficult hydro-geology, limited alternative water supply systems, weak sustainability mechanisms, limited investments in safe water delivery and limited application of technology.
Arhin noted that "the water sub-sector was suffering because investment has not matched the increasing demand for safe water delivery, with annual GoG budget allocation to the sector averaging less than 1% of GDP."
The journalists later raised several issues including what the WRC was doing to change the mind-set of Ghanaians about the destruction of freshwater ecosystems, why massive encroachment of the country's wetland has been permitted all these years, why rivers become gutters when they enter Accra and how achievable is SDG 6 in Ghana in the light of continuing "galamsey" or illegal mining.
The ensuing discussion was done in an atmosphere devoid of hostilities that sometime characterise such interactions. It reflected a willingness on the part of media practitioners to delve into environmentally related issues impeding the nation's development agenda and general wellbeing of the people.
By Ama Kudom-Agyemang, Accra