The Anambra State Government has signed N9 billion agreements with two foreign firms and one local firm for erosion-control works on six erosion sites in the state.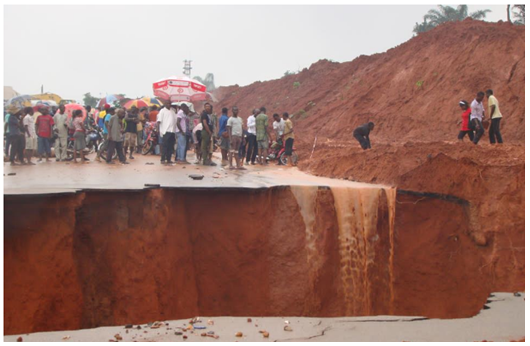 The erosion sites are: Enugwu-Ukwu and Abidi-Umuoji (N2 billion), Nnewi-Ichi and Ojoto (N5 billion) and Nkpor Flyover and Ire-Obosi site at the cost of N2 billion.
Governor Willie Obiano, while signing the contract at the Governor's Lodge Amawbia near Awka on Thursday, May 24, 2018, said that the projects would be funded by the World Bank, Federal Government and Anambra Government at the cost of N9 billion.
Obiano named the two foreign firms as: Chinese CGC-CHWE and CGC-YSE, while the indigenous firm to handle the Nkpor Flyover and Ire-Obosi is Monier Construction Company, Nig. Ltd.
The governor said that the state has 972 active erosion sites out of which only 12 had been successfully controlled, saying that his administration was happy over the award of the contract.
He explained that the completion time for all the projects was 24 months and charged the firms to abide by the terms of the agreement.
Obiano, who expressed satisfaction with the way both state and federal governments were tackling ecological problems, noted that the state government had secured 10 additional sites to be funded by the World Bank.
The governor, while canvassing for best environmental practices from citizens through the planting of tress, called for more assistance from the World Bank to ensure greater erosion control in the area.
He expressed happiness that the erosion challenges could be handled by competent firms.
Earlier, Anambra State Commissioner for Environment and Beautification, Mr Mike Okonkwo, confirmed that the state had fully paid its counterpart funds for the projects.
Deputy Managing Director of the firm handling the projects, Mr Xion Jian Fan, said that the four erosion sites would be completed within record period.
He pledged to deploy modern expertise in handling the projects.
In his remark, the Anambra State Project Co-coordinator for the Nigeria Erosion and Watershed Management Project (NEWMAP), Mr Michael Ivenso, noted that the agreements were an indication of government's readiness to tackle ecological challenges in the state.